Patient with ulcerative colitis who developed Sweet syndrome: JAPI Case Report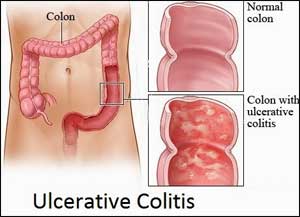 India: A case report published in the Journal of the Association of Physicians of India describes the case of a 23-year-old female with acute exacerbation of ulcerative colitis associated with erythematous, papular skin lesions which on biopsy were consistent with Sweet syndrome.
Sweet syndrome, also known as acute febrile neutrophilic dermatoses is one of the rare cutaneous manifestations of ulcerative colitis. It has also been reported in association with some medications like trimethoprim, nitrofurantoin, sulfamethoxazole, diclofenac, and ofloxacin.
The patient had a known case of ulcerative colitis, who was in remission on treatment with oral mesalamine and azathioprine. Presented with 3 days history of acute onset high-grade fever, skin eruptions in the form of tender, well demarcated red colored lesions. These lesions were non-pruritic. She gave a history of increased frequency of stools, 5-6 times, watery in consistency with blood and mucus. There was no abdominal pain, cough, chest pain, headache or joint pains. In the past, the clinical course of ulcerative colitis has been waxing and waning with few flares in the last couple of years managed with oral steroids. Prior to current admission, her disease was in remission.
On examination, she was febrile, there were ulcers on the uvula, the skin lesions were tender, well-demarcated papules with few showing pustular transformations. There were spread throughout the body including face, trunk, and limbs. There were no genital ulcers. Abdominal examination was unremarkable.
She was admitted under the gastroenterology unit. Complete blood counts showed leucocytosis. Her tests for malaria, dengue, leptospira, Weil Felix, Cytomegalovirus (CMV IgM) and Ebstein Barr Virus (EBV IgM) were all negative. Her Anti-nuclear antibody by immunofluorescence was negative. Her IgA and IgG levels were normal. Her CRP was 309 mg/dL and ESR was elevated at 78. Other antibodies against extractable nuclear antigens. These lesions first appeared on legs and then subsequently noticed on trunk and face over a period of 3 days like nucleosome, dsDNA, histones, Sm, Sm/RNP, SSa, SSb, Scl-70, ku, Pm-SCL, mi, jo, SRP-54, ribosomes, CENP, PCNA, Sp-100, were negative. ANCA was also negative
Her colonoscopy showed loss of vascular pattern of the mucosa, with mild ulcerations. There was no spontaneous oozing or friability. Colonic biopsy showed disorganization of crypt architecture, dilated and branched crypts, crypt destruction with cryptitis and crypt abscess. The lamina propria showed dense acute and chronic inflammatory infiltrate. All the findings were suggestive of moderate activity in the case of ulcerative colitis.
Skin biopsy was taken from one of the lesions which showed inflammatory exudate covering the epithelium. There were neutrophilic abscesses in the epithelium as well as subepithelium, mainly concentrated around vessels and adnexal tissues. There were perivascular inflammatory cell infiltrates composed of lymphocytes and neutrophils. There was no evidence of granulomas or dysplasias. On immunohistochemistry, IgA was negative. All the above staining for findings were suggestive of Acute Neutrophilic Dermatoses.
She was started on intravenous hydrocortisone (100 mg thrice daily). Her clinical symptoms including skin lesions responded well by day 5 of treatment. She was subsequently discharged on a tapering dose of oral steroids.
For more details click on the link:
www.japi.org