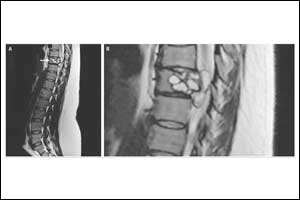 Dr.Marine Jacquier and colleagues have reported a case of Vertebral Hydatidosis that has appeared in NEJM.
Hydatid disease of the spine is a rare form of parasitic infection n humans, causing focal neurological signs. Vertebral hydatidosis commonly involves the thoracic vertebrae and the cervical, lumbar vertebrae and sacrum are rare sites to be involved. But the clinicians and researchers are not sure which region is more commonly involved.
In the instant case, a 35-year-old woman presented to the emergency department with symptoms started out as "electric shocks" in her legs. She also had a history of weakness and repeated falls. She said that her symptoms had been progressing, and she noted that she experienced difficulty riding her horse for last  3 months.
She was a citizen of  France, had no history of foreign travel n recent past. However, she owned a pet cat and had a history of contact with cattle. Her Physical examination showed that she had impaired sensation in both legs and weak foot flexion. The laboratory investigations revealed leucocytosis (18,800 per cubic millimeter; reference range, 4000 to 10,000) with a normal absolute eosinophil count and a C-reactive protein level of 49 mg per liter (reference value, <5).
She was subjected to Magnetic resonance imaging of the spine which revealed a lobulated lesion of the 9th thoracic vertebra with an epidural component.
Her Surgery involved posterior corpectomy of the 9th thoracic vertebra, osteosynthesis of the 7th through 11th thoracic vertebrae, and removal of the epidural lesion. The histological testing revealed hydatidosis, and reverse-transcriptase–polymerase-chain-reaction assay identified Echinococcus granulosus. The patient was also treated with the antiparasitic medication albendazole and the patient had no residual symptoms or sign of recurrence at follow-up 9 months after presentation.
Echinococcus is a parasitic cestode that can infect dogs and other pets and farm animals, with humans as incidental hosts. Human infection can cause cystic lesions in the liver and lungs and sometimes in the central nervous system and bones. It is recommended that vertebral hydatidosis should be considered in the differential diagnosis of any patient who has lived or traveled within endemic areas and who presents with spine lesions and cord compression.
For further reference log on to http://DOI: 10.1056/NEJMicm1714206