Paras Hospitals conducts complex brain tumor surgery, saves life of a 20 year old boy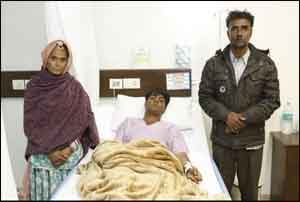 Son of a daily laborer, Anil, aged 20, with a rare case of cystic brain tumor, was admitted at Paras Hospital Gurgaon after he suffered an epileptic shock. Doctors at the hospital took-up the case as emergency, and in a short period of time conducted the surgery with complete recovery. World renowned neurosurgeon - Dr (Prof) VS Mehta, Padmashree, Chairman Neurosciences Paras Healthcare - conducted the rare and complex brain tumor surgery.
Anil a 20-year-old son of a daily wage laborer was suffering from severe headache for the past two to three months, following which he suffered an epileptic attack. Upon visiting Paras Hospitals in Gurgaon, the patient was diagnosed with a rare case of brain tumor.
The news of the son suffering from brain tumor in such a young age had shocked the parents and family members. With chances of survival really low, the parents had nearly lost all hope of his recovery.
"Anil was timely brought in for diagnosis because he was in a critical stage and could have lost his life at any moment. It was important for the patient to quickly undergo operation. He had a cystic lesion which is a tumor/cyst in the brain. A biopsy was also conducted. Luckily, the tumor was non-cancerous, as we had consulted medical oncologists and radiation oncologists on this case. The risks were high because of the advance stage of the tumor and its placement in the brain. The neurology team swung in to action and conducted all necessary tests for a complete diagnosis and to evaluate all important parameters before conducting the surgery. The surgical team performed craniotomy which went on for 15 hours. We were finally able to remove the tumor completely which was damaging other brain tissues," Dr (Prof) VS Mehta, EX HOD Neurosurgery, AIIMS New Delhi - Chairman Neurosciences, Paras Healthcare shared.
Paras Hospitals, Gurgaon is known for its specialized Neurosurgery and Neurology medical expertise in India. They have been awarded the Best Hospital for Neurosciences for International Patients by FICCI in the Advantage Medical Value Travel 2017 event and have also been adjudged the Best Hospital for Neurological and Neurosurgery expertise in Delhi NCR.
Paras Hospitals, Gurgaon is also one of the first private hospitals to have image guided brain tumor navigation technology, which ensures 100% surgical precision and excellent outcomes. The hospital also has affordable high end radiology servicing such as Functional MRI, MRI and CT. The Neurosurgery department performs more than 10000 complex brain tumor cases consisting of deep seated brain tumors and also brachial plexus injury.
Dr Mehta shares, "Paras Healthcare is a hospital for the middle class that has been established on the ethos of affordability, accessibility and quality. Paras has been a true partner in health to the community and continues its efforts to provide the best super specialty care to the common man."
In a period of 6 days, the patient recovered completely and was discharged on Dec 25, 2017, with complete cognition intact. Post-operation, complete rehabilitative care was also given to the patient, helping him recover from the major operation. As a mark of achievement, the patient had all vital parameters within control with no damage to any other tissue.
The parents of the patient were really relieved to see their son recover. Being their eldest son and an earning member of the family, his complete recovery was a heart-warming matter for the entire family.
According to Anil, the patient, "Dr Mehta's inclusion in my care was God sent. Me and my family are indebted to the contributions of the hospital and the doctor for ensuring that I get well. The hospital staff, rehabilitation, support and guidance provided to me and my family has been unparalleled. The best care and dedicated medical expertise was provided to me. We wish the best to the hospital and hope that many others are touched by their noble endeavors."
Source : Press Release