Paralyzed patients able to walk due to breakthrough technology
Its great news three paralyzed patients were able to walk due to breakthrough technology.
These patients were able to walk with minimal assistance, thanks to the precise electrical stimulation of their spinal cords via a wireless implant combined with intensive rehabilitation, Swiss scientists report.
In a double study published in the journals Nature and Nature Neuroscience, Swiss scientists Grégoire Courtine and Jocelyne Bloch, from Lausanne University Hospital (CHUV), Lausanne, Switzerland, show after a few months of training, the patients with chronic paraplegia were able to control previously paralyzed leg muscles, even in the absence of electrical stimulation.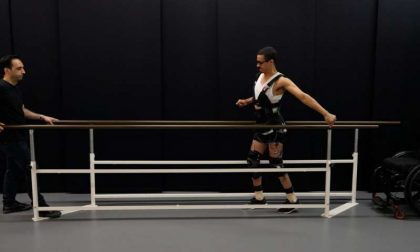 Study participant David Mzee is now able to take a few steps of his own. He was totally paraplegic following a sports accident. Credit: EPFL / Jean-Baptiste Mignardot
This study, called STIMO (STImulation Movement Overground), establishes a new therapeutic framework to improve recovery from spinal cord injury. All patients involved in the study recovered voluntary control of leg muscles that had been paralyzed for many years. Unlike the findings of two independent studies published recently in the U.S. on a similar concept, the neurological function was shown to persist beyond training sessions, even when the electrical stimulation was turned off.
The study was led by the Ecole Polytechnique Fédérale de Lausanne (EPFL) and the Lausanne University Hospital (CHUV) in Switzerland.
"Walking hands-free really felt more or less like walking normally, and that was a very big achievement," said 28-year-old patient David M., who became paralyzed after a sports accident in 2010 left him with no control of his left leg and only residual control of his right.
Implanted electrodes that provide direct electrical stimulation to the spinal cord have been shown to allow movement of previously paralyzed legs.
"Our findings are based on a deep understanding of the underlying mechanisms, which we gained through years of research on animal models. We were thus able to mimic in real time how the brain naturally activates the spinal cord," says Courtine.
"All the patients could walk using body weight support within one week. I knew immediately that we were on the right path," adds CHUV neurosurgeon Jocelyne Bloch, who surgically placed the implants in the patients
The new study takes the medicine and technology of spinal stimulation even further in two ways.
First, patients were implanted with an array of electrodes down the spinal cord, which allowed researchers to target individual muscle groups in the legs.
Second, and even more important, the research team fine-tuned the stimulation to work in conjunction with the patients' proprioceptive sensory system.
Continuous nerve stimulation overloads a person's proprioceptive system, researchers discovered.
"If you stimulate the entire spinal cord, you will activate all the muscles at the same time and block leg movement," Courtine said.
When the stimulation was fed in pulses that worked in conjunction with the proprioceptive system, patients achieved a remarkable improvement in their ability to move previously paralyzed legs in coordination, the researchers said.
All three study participants were able to walk with body-weight support after only one week spent calibrating the nerve stimulation to their individual brain patterns, Courtine said.
Long, high-intensity training sessions appear to have triggered the nervous system's ability to reorganize nerve pathways around damaged nerves, researchers said. As a result, patients have improved motor function even when the electrical stimulation has been turned off.
Another patient, Sebastian Tobler, said he can now walk a few steps hands-free in the lab with the aid of electrical stimulation. He can even trike uphill outdoors, using a special three-wheeled cycle that uses both hand- and leg-operated cranks.
"I can support more and more weight on my legs and have more and more control with my legs," said Tobler, 47, who had both legs completely paralyzed after a 2013 mountain biking accident.
The patients were given watches that adapt the electrical stimulation to their needs based on voice commands.
But none of the researchers would say that a full cure for paralysis is on its way, based on this research.
"I hope we can develop some kind of walker or exoskeleton combined with stimulation so we can get people out of the wheelchair," Courtine said. "They might not walk around, but they will feel better and will have a lot of health benefits associated with this mobilization of their body."
The new rehabilitation protocols based on this targeted neurotechnology lead to improved neurological function by actively training natural overground walking capabilities in the lab for extensive periods of time, as opposed to passive training like exoskeleton-assisted stepping.
For further reference log on to
https://doi.org/10.1038/s41593-018-0093-5
and
https://doi.org/10.1038/s41586-018-0649-2
Source : With inputs from Nature�and�Nature Neuroscience