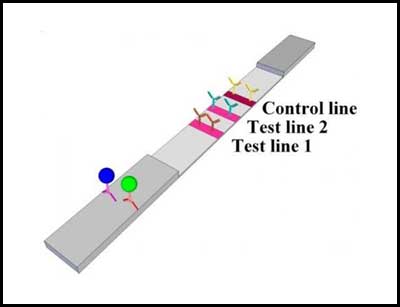 Contrary to the condition's name, heart failure doesn't mean the heart has stopped pumping — it's just not working at full strength. It can often be managed with medications and lifestyle changes, but its progression needs to be monitored closely. Now scientists have developed a new test strip that could potentially allow patients to do this at home for the first time. Their study appears in the journal ACS Nano.
In the U.S., nearly 6 million people live with heart failure, and about 1 million hospitalizations occur each year are related to the condition, according to the American Heart Association. Closely tracking the condition after diagnosis is important for adjusting treatment and preventing emergency room visits. Antigens called ST2 and BNP are good indicators of heart failure and how it's progressing. But currently, analyzing the levels of these biomarkers requires both trained personnel and sophisticated lab equipment. Feng Xu, Min Lin and colleagues wanted to devise a simple test to enable doctors and patients to carry out the same analysis at the office or at home.
The researchers developed a paper-based test that requires only a small blood sample of 10 microliters. A blue dot glows on the strip if ST2 is present in the sample, and a green dot glows if it contains BNP. The colors' intensities increase with concentration, which indicates a person's heart failure is likely becoming worse. A smartphone app can analyze the readout and send the results to the patient's doctor, who can adjust the patient's treatment accordingly. Testing 38 serum samples from people with heart failure showed that the paper test closely matched conventional techniques.
For more details click on the link : MinLi You, Min Lin, Yan Gong, Shurui Wang, Ang Li, Lingyu Ji, Haoxiang Zhao, Kai Ling, Ting Wen, Yuan Huang, Dengfeng Gao, Qiong Ma, Tingzhong Wang, Aiqun Ma, Xiaoling Li, Feng Xu. Household Fluorescent Lateral Flow Strip Platform for Sensitive and Quantitative Prognosis of Heart Failure Using Dual-Color Upconversion Nanoparticles. ACS Nano, 2017; DOI: 10.1021/acsnano.7b02466
The following two tabs change content below.
Anjali Nimesh
Anjali Nimesh Joined Medical Dialogue as Reporter in 2016. she covers all the medical specialty news in different medical categories. She also covers the Medical guidelines, Medical Journals, rare medical surgeries as well as all the updates in medical filed. She is a graduate from Dr. Bhimrao Ambedkar University. She can be contacted at editorial@medicaldialogues.in Contact no. 011-43720751
Latest posts by Anjali Nimesh (see all)