Panchakarma procedures and oral Ayurveda medicine showed complete recovery from Guillain Barre syndrome- a case report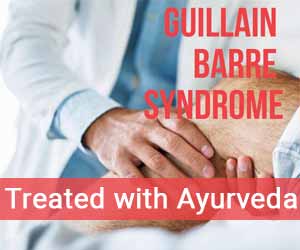 Treatment with 14 days of various panchakarma procedures and oral administration of Ayurveda medicines for the next 151 days showed complete recovery of a 60-year-old female patient suffering from Guillain-Barre syndrome on all deficits, revealed a case-study published in the Journal of Ayurveda and Integrative Medicine.
Guillain-Barre syndrome is a rare disorder in which your body's immune system attacks the nerves of the body. Weakness and tingling in the extremities are usually the first symptoms. The condition may eventually lead to paralysis of the whole body. In its most severe form, Guillain-Barre syndrome is a medical emergency. Most people with the condition must be hospitalized to receive treatment.
The case of a 60 years old female patient who was diagnosed with Guillain-Barre syndrome presented with loss of power of both upper and lower limbs, associated with deranged sensation like pricking and tingling sensation all over the body, numbness in both palms & soles, incontinence of urine since last 12 days and Foley's catheter in-situ reported to outpatient department of KLE Shri BMK Ayurveda Hospital Belagavi. According to the clinical reports, the deficit in the sensory system like tingling, pricking sensations all over the body and numbness at both palmar and plantar surface of all extremities were observed. The patient had incontinence of urine. Further examination showed no abnormality in cranial nerves, higher mental functions were intact.
Therapeutic intervention used for the treatment
The key therapeutic interventions followed, in this case, were in line with vatavyadhi . Kosht a shodhana (gut cleansing), Sarvanga abhyanga (massage of whole body with medicated oil), ksheera parisheka (dripping of medicated milk over body), Shastika shali panda sweda (Rubbing of medicated rice poultice over body), Sarvanga Annalepa (application of medicated rice over the body), Shirotala dharana (trans cranial drug administration by applying medicines over scalp), Basti (trans rectal administration of medicines) and oral medications.
The patient was treated from September 2016 to November 2017. Active intervention for GBS was till February 2017 (165 days) during which period patient had neurological deficits. And patient follow up observation was continued till November 2017 (437 days) as the patient had other symptoms like amlapitta (Acid peptic disorder) and sandhivata of dakshina janu sandhi (Osteoarthritis of the right knee joint). Ayurveda management showed complete recovery in GBS patient with sensory, motor deficits and Urinary sphincteric disturbance. Long term follow up showed sustenance of all the positive outcomes. The patient continued the follow up even after total remission of the GBS symptoms for other health complaints like right knee joint pain and acid peptic disorder. Accordingly, medications were advised.
The authors concluded that Ayurveda management of GBS showed amelioration of motor, sensory and sphincter deficits. Treatment with 14 days of various panchakarma procedures and oral administration of Ayurveda medicines for the next 151 days showed compete for recovery on all deficits. These treatments were safe and effective. Following Ayurveda model of treatment like stage wise and customized approach have a beneficial effect.
For further reference, please click on the link