................................ Advertisement ................................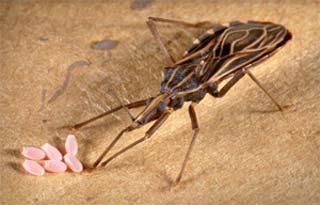 The Pan American Health Organization (PAHO) has published a new Guide for Diagnosis and Treatment of Chagas Disease.
Chagas Disease is a parasitic infection that claims some 12,000 lives in Latin America and the Caribbean every year. Some 65 million people living in 21 endemic countries of the Americas are at risk of contracting Chagas disease, a parasitic infection that claims some 12,000 lives in the region every year.
It is caused by the Trypanosoma cruzi parasite and can be transmitted by insects, through blood transfusions, from mother to child during pregnancy or childbirth, and by food. More than 6 million people in the Americas live with Chagas, most of them unaware that they are infected. An estimated 28,000 new cases result each year from vector transmission, with an additional 8,000 new cases resulting from congenital transmission.
................................ Advertisement ................................
In addition to this significant negative public health impact in the Americas, Chagas also has the potential to spread to other continents via congenital transmission and blood transfusions. Yet health personnel in the Region have typically faced the problem with little information and minimal training on timely and adequate diagnosis and treatment, including comprehensive clinical management.
The new guide seeks to bridge these gaps by providing clearer and more standardized procedures for improved care and treatment for every infected person, with the goal of contributing to better health for patients, their families and entire communities.
................................ Advertisement ................................
The new guide was developed by notable experts in the field and is based on evidence assessed with the GRADE methodology (Grading of Recommendations Assessment, Development and Evaluation), providing a synthesis of currently known and published evidence on the subject.
Dr Kamal Kant Kohli-MBBS, DTCD- a chest specialist with more than 30 years of practice and a flair for writing clinical articles, Dr Kamal Kant Kohli joined Medical Dialogues as an Editor-in-Chief for the Speciality Medical Dialogues section. Besides writing articles, as an editor, he proofreads and verifies all the medical content published on Medical Dialogues including those coming from journals, studies,medical conferences,guidelines etc.
Before Joining Medical Dialogues, he has served at important positions in the medical industry in India including as the Hony. Secretary of the Delhi Medical Association as well as the chairman of Anti-Quackery Committee in Delhi and worked with other Medical Councils in India. Email: editorial@medicaldialogues.in. Contact no. 011-43720751
To know about our editorial team click here