Oxygen therapy highly effective treatment of cluster headache, finds survey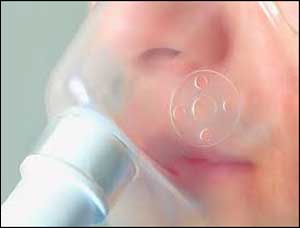 Oxygen Therapy is highly effective in treating cluster headache, reported a survey published in the journal Headache.
Stuart M. Pearson MA, a researcher in the department of psychology at the University of West Georgia in Carrollton, and his colleagues analyzed data from the Cluster Headache Questionnaire conducted internationally in order to explore the efficacy and adverse effects of acute cluster headache medications. The questionnaire was conducted for a large international sample, including recommended treatments such as oxygen, commonly used medications such as opioids, and emerging medications such as intranasal ketamine.
Cluster headaches are a series of extremely painful headaches that occur every day and can stay for weeks or months at a time. The headache is relatively short but awfully painful. Large international surveys of cluster headache are rare, as are examinations of treatments and side effects in older cluster headache patients. This study has presented data from the Cluster Headache Questionnaire, with respondents from over 50 countries and with the vast majority from the United States, the United Kingdom, and Canada.
A total of 3251 subjects participated in the questionnaire, and 2193 respondents met the criteria for this study (1604 cluster headache and 589 probable cluster headache). Of the respondents with cluster headache, 68.8% (1104/1604) were male and 78.0% (1245/1596) had an episodic cluster headache. Over half of respondents reported complete or very effective treatment for triptans (54%, 639/1139) and oxygen (54%, 582/1082). Between 14 and 25% of respondents reported complete or very effective treatment for ergot derivatives (dihydroergotamine 25%, 42/170; Cafergot/ergotamine 17%, 50/303), caffeine and energy drinks (17%, 7/41), and intranasal ketamine (14%, 5/37). Less than 10% reported complete or very effective treatment for opioids (6%, 30/541), intranasal capsaicin (5%, 7/151), and intranasal lidocaine (2%, 5/241).
This internet‐based survey included questions on cluster headache diagnostic criteria, which were used as part of the inclusion/exclusion criteria for the study, as well as the effectiveness of medications, physical and medical complications, psychological and emotional complications, mood scores, and difficulty obtaining medications. The diagnostic questions were also used to create a separate group of respondents with probable cluster headache. Limitations to the methods include the use of nonvalidated questions, the lack of a formal clinical diagnosis of cluster headache, and the grouping of some medications (eg, all triptans as opposed to sumatriptan subcutaneous alone). Adverse events were especially low for oxygen (no or minimal physical and medical complications 99%, 1077/1093; no or minimal psychological and emotional complications 97%, 1065/1093).
oxygen was reported by survey respondents to be a highly effective treatment with few complications in cluster headache in a large international sample, including those 65 years or over. Triptans were also very effective with some side effects, and newer medications deserve additional study. Patients with probable cluster headache may respond similarly to acute medications as patients with a full diagnosis of cluster headache.
Source : Press Release