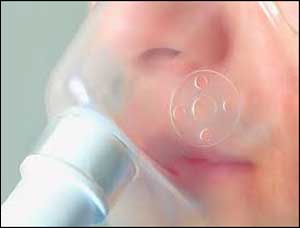 BMJ released new guidelines regarding oxygen therapy in acutely ill patients.
The new recommendations that appeared in The BMJ report supplemental oxygen is not always indicated for acutely ill patients and may contribute to mortality. The updated guideline applies to critically ill or surgical patients with sepsis and also to patients who are en route to the hospital in an ambulance and to those who are hospitalized.
A systematic review published in the Lancet in April 2018 reported that oxygen should be administered conservatively as supplemental oxygen in inpatients with normal oxygen saturation increases mortality, but no specific recommendations were made on how to do it. An international expert panel used that review to formulate the new guidelines which aim to promptly and transparently translate potentially practice-changing evidence to usable recommendations for clinicians and patients.
The panel considered several key practical issues: psychological comfort from oxygen, discomfort (such as nasal irritation), and feasibility (such as an impact on nursing resources). The panel was interested in knowing whether the impacts of oxygen were different in different medical conditions or study populations.
They decided on the scope of the recommendation and the outcomes most important to patients. The panel identified three key patient-important outcomes: mortality, hospital-acquired infections, and length of hospitalization
The panel tried to find out the solution for the questions regarding:
In acutely ill patients, when should oxygen therapy be started? (What is the lower limit of peripheral capillary oxygen saturation (SpO2)?)
In acutely ill patients receiving oxygen therapy, how much oxygen should be given? (What is the upper limit of SpO2?)
The key recommendations are:
Stop oxygen therapy no higher than 96% saturation (strong)
Do not start oxygen therapy between 90-92% saturation (weak)
Do not start oxygen therapy at or above 93% saturation (strong)
Oxygen saturation should be maintained no higher than 96%
The ideal oxygen saturation at which to start oxygen therapy is uncertain but is probably 90% or lower.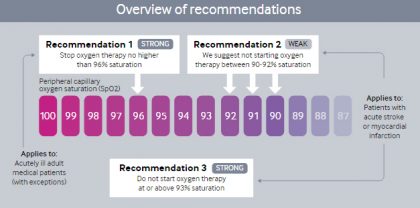 Courtesy-The BMJ
Read Also: Routine use of oxygen may even harm Patients
The upper limit of oxygen therapy:
The panel makes a strong recommendation that, if supplemental oxygen is administered, clinicians ensure a maximum SpO2 of 96%. This is because saturation above this level likely causes a small but important increased risk of death without plausible benefit. It is probable that the optimal upper SpO2limit is lower than 96%, but exactly how much lower is unknown. Patients randomized to more liberal oxygen therapy typically achieved a SpO2 >96%. The data from the trials provide only limited support for any particular upper threshold, including the 96% chosen by the panel.

Courtesy-The BMJ
The Lower limit of oxygen therapy:
For patients with myocardial infarction or stroke, the panel makes a strong recommendation against initiating supplemental oxygen when the initial SpO2 is >92%.In patients with myocardial infarction or stroke, there are probably no benefits to initiating oxygen therapy when SpO2 is >92%, and it may cause harm.
The panel makes a weak recommendation against initiating oxygen in these patients with a SpO2 of 90-92%. There may not be any benefits for patients with this lower SpO2(90-92%). Fewer patients with this SpO2 range at baseline were included in the trials, so the panel had less certainty in the results. There is no evidence of benefit from supplemental oxygen initiated in patients with myocardial infarction and stroke whose SpO2 is ≥90%, but there exists at least a modest risk of harm.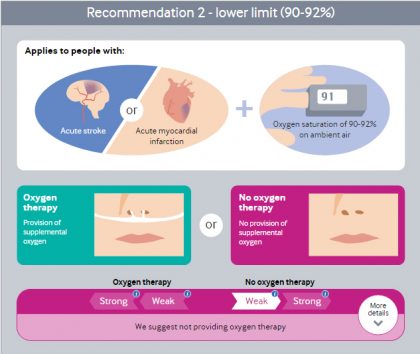 Courtesy-The BMJ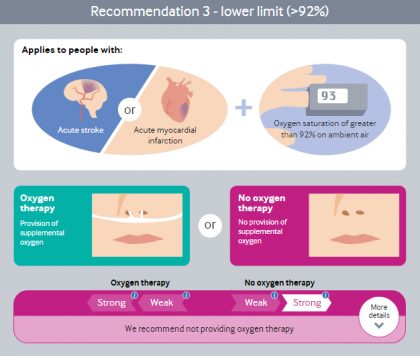 Courtesy-The BMJ
The panel did not issue recommendations for all patients or for other conditions because there were too few participants in the clinical trials who had a baseline SpO2 <95%.
Read Also: Oxygen during heart attack does not prevent heart failure : ESC Update
The panel was confident that the recommendation against letting oxygen saturation rise above 96% applies to almost all patients in hospital with a medical problem. The recommendation also applies to pre-hospital care. The evidence may apply to surgical and obstetric patients, but the panel did not review the evidence on postoperative healing and infections and therefore decided not to comment on these patients. Similarly, the panel did not review the evidence on oxygen therapy in neonates and infants.
At present, supplemental oxygen therapy is widely used in hospitals: 25% or more of patients who visit the emergency department receive oxygen. Clinicians often give oxygen to many patients presenting with stroke without hypoxemia, and to almost all patients presenting with myocardial infarction. Until recently, many healthcare professionals believed that oxygen had little or no harm to acutely ill adults. In addition to mortality, other difficulties caused by oxygen can include nasal or throat irritation and hampered mobility.
For more reference log on to https://doi.org/10.1136/bmj.k4169