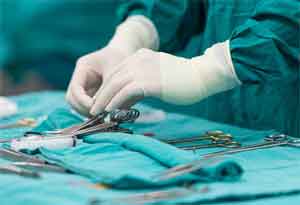 A tumor weighing over three kilograms and measuring 28cms by 27 cms, was successfully removed from inside the ovary of a 22-year old woman over the weekend.
The rare surgery was carried out by a team of five doctors at the prestigious Saraswathi Institute of Medical Sciences (SIMS) situated in Hapur in Uttar Pradesh.
"After getting unsuccessful treatment at some private practitioner, she approached our institute during the first week of October. We diagnosed the tumor and advised for surgery. A team of doctors was soon constituted and the successful operation was carried out," added Dr. Goel.
"Now, the patient is doing absolutely fine and will be discharged in a day or two. After this successful surgery, she can also conceive as the other part of her ovary is fit for pregnancy," she added.
The rare surgery lasted nearly five hours, Dr. Rajni said.