Out-of-hospital evaluation and treatment of accidental hypothermia: WMS Guideline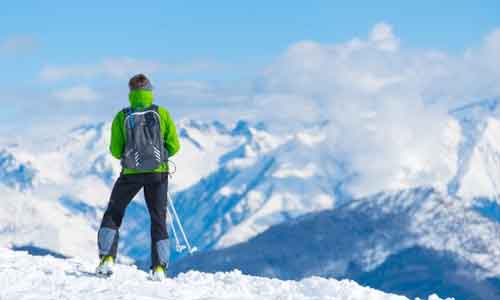 The Wilderness Medical Society (WMS) has released guidelines on the out-of-hospital evaluation and treatment of accidental hypothermia. The guidelines are published in the journal Wilderness & Environmental Medicine.
Accidental hypothermia is defined as an unintentional drop in core temperature to 35°C or lower. Accidental hypothermia due to environmental exposure can occur during any season and in most climates, with cold and wet environments posing the greatest risk.
Key Recommendations of the guideline include:


The key factors guiding hypothermia treatment are level of consciousness, alertness, shivering intensity, physical performance, and cardiovascular stability (assessed based on blood pressure and cardiac rhythm).


Core temperature can provide additional helpful information, but it is difficult to accurately obtain in the field, and the panel recommends that this should not be the sole basis for treatment.


A patient who is shivering but able to function well and care for him- or herself be closely observed because this patient is unlikely to be hypothermic. A patient who is shivering, becoming incapacitated, and having difficulty caring for him- or herself is likely to be hypothermic. If there is any doubt, assume that the patient is hypothermic and treat accordingly.


The AHA scheme should not be used as the standard classification for out-of-hospital treatment of hypothermia because it changes the widely accepted definition of hypothermia and emphasizes the response to defibrillation rather than physiologic changes.


Rescuers should classify hypothermia as mild, moderate, severe, and profound based on clinical observations, remembering that shivering can occur below 32°C, usually with altered mental status, and that patients can have detectable vital signs with core temperatures below 24°C.


Clinicians should consider causes other than hypothermia to explain altered mental status or lack of shivering that do not correlate with the measured core temperature or are associated with a history of minimal cold exposure.


If available, an esophageal temperature probe should be placed in a patient whose airway has been protected and secured. Esophageal temperature is the preferred method of core temperature measurement.


Use an epitympanic thermometer designed for field conditions with an isolating ear cap in a patient whose airway has not been secured by endotracheal intubation or a supraglottic airway, or in a patient with a secured airway if an esophageal probe is not available. Infrared tympanic thermometers should never be used to measure core temperature in hypothermic patients.


Rectal temperature measurement should not be used unless the patient is in a warm environment.


Monitor rectal or bladder temperature during the rewarming of an unconscious patient only if an esophageal or epitympanic probe is not available. If rectal or bladder temperature is used for monitoring during rewarming, allow for inaccuracy due to the time lag behind core temperature changes.


Oral temperature measurement with a thermometer that cannot read below 35C should not be used to diagnose hypothermia.


Do not use a temporal artery thermometer in a possibly hypothermic patient.


The decision to rescue or resuscitate a patient can only be made after the scene is secure and safe for the rescuers to enter and make an evaluation.


Rescuers should keep a hypothermic patient horizontal, especially during rescue from water or a crevasse and should limit physical effort by the patient during the rescue. A conscious patient should be encouraged to be attentive and focus on survival.


Handle a hypothermic patient gently and continue to keep the patient horizontal. Avoid any disturbance, especially movement of the extremities that might precipitate VF. To minimize movement, clothes should be cut off of a patient once in a warm environment.


Protect from further cooling by using insulation and vapor barriers until the patient has reached a warm environment.


An outer windproof layer should be used to protect the patient from wind and especially from rotor wash when loading or unloading from a helicopter. If possible, add a second vapor barrier against the victim to protect the insulating layers.


Shivering is an effective method of rewarming in a patient who is cold-stressed or mildly hypothermic. The patient must be adequately insulated from the environment to retain the generated heat.


A shivering patient who may be hypothermic should be kept as warm as possible, given calorie replacement, and observed before exercising.


Apply heat sources to the axillae, chest, and back. A large heat pad or blanket should be placed over the chest and, if large enough, extend into the axillae and under the back.


Avoid localized pressure on cold skin. Apply heat sources according to manufacturer instructions; this often precludes direct contact with the skin by placing some thin insulating material between the skin and heat source to prevent burning the skin.


Do not use small chemical heat packs for core rewarming of a hypothermic patient.


Heated humidified oxygen can be used in combination with other rewarming methods, but it should not be relied on as the only rewarming method.


A warm shower or bath should not be used for initial rewarming, even if a patient appears to be only mildly hypothermic.


Fixed, dilated pupils, apparent rigor mortis, and dependent lividity are not considered contraindications to resuscitation of a severely hypothermic patient.


The advantages of advanced airway management outweigh the risk of causing VF. A nasogastric or orogastric tube should be placed after the airway is secured to decompress the stomach.


A hypothermic patient should receive supplemental oxygen, especially at altitudes over 2500 m, because of potential benefits and no known harm.


To prevent hypothermia, the severely injured patient should be treated early and aggressively with active rewarming during all phases of out-of-hospital care.


When preparing a patient for transport, potential spinal injuries should be stabilized. Fractures and dislocations should be reduced as much as possible to normal anatomic configuration. Open wounds should be covered.


"To assist medical providers caring for patients with accidental hypothermia in the out-of-hospital setting, we have provided evidence-based recommendations for evaluation and treatment. There are several important areas of uncertainty that warrant future research. These areas include optimal methods for evaluating patients with accidental hypothermia, best treatments for patients with mild to moderate hypothermia, and optimal methods of resuscitating hypothermic patients in cardiac arrest," concluded the authors.
"Wilderness Medical Society Clinical Practice Guidelines for the Out-of-Hospital Evaluation and Treatment of Accidental Hypothermia: 2019 Update," is published in the journal Wilderness & Environmental Medicine.
Source : With inputs from Wilderness & Environmental Medicine