Osteoporosis leading to vertebral fracture and Kyphosis: Case Study
A Case of Severe Kyphosis due to Osteoporosis has been reported by Boris Blechacz and colleagues at Mayo Clinic, Rochester, MN which has appeared in NEJM.
The most common cause of kyphosis in adults is from a vertebral fracture due to osteoporosis. This can occur in both men and women but is more common in females than in males. As osteoporosis weakens the vertebral bones in the spine, the vertebrae are susceptible to fracture that typically occurs in a wedge shape – with the front of the vertebra collapsing and losing its height and the back of the vertebra maintaining its height. As the front of the bone is crushed, that segment of the spine tips forward, resulting in an excessive kyphotic curve and forward-stooped posture. Treatment typically will address the underlying osteoporosis (to prevent future fractures) as well as pain reduction and possibly surgical repair of the fracture.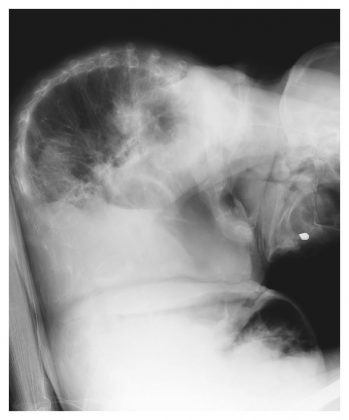 courtesy NEJM
According to history, an 89-year-old woman was admitted to the hospital with hypercapnic respiratory failure. She had a long history of osteoporosis. Bone densitometry revealed a T score for the lumbar spine of −4.8. She was taking subtherapeutic vitamin D and calcium supplements and had declined treatment with bisphosphonates.

Over a period of 4 years, her T score declined further, to −5.0. A radiographic study showed multiple vertebral compression fractures that resulted in serious kyphosis. Progressive dysphagia secondary to thoracic deformity developed, resulting in a 26% weight loss over a period of 4 years. When she was admitted to the hospital, she reported weakness and shortness of breath.

Multiple attempts at the placement of a nasogastric tube were unsuccessful because of marked oesophagal kinking. Her respiratory status worsened, and she ultimately required fiberoptic intubation. Attempts to wean the patient from mechanical ventilation failed, and she died 10 days after admission to the hospital.

Severe kyphosis in the elderly often is due to osteoporotic vertebral fractures, which may lead to mechanical complications such as dysphagia, respiratory failure, and ultimately death.
For more details click on the link:
DOI: 10.1056/NEJMicm074057
Source : With inputs from N Engl J Med