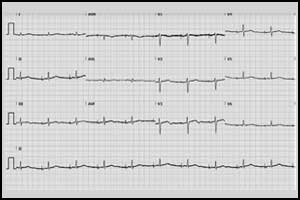 The present case paper appears in the European Heart Journal – Case Reports, where the authors Henk-Jan Boiten and associates report an orgasm-induced torsades de pointes (TdP) in a patient with LQT (long-QT) syndrome type 2 with a novel mutation in the KCNH2 gene. Orgasm-induced torsades des points, although extremely rare, could be the first symptom in a patient with long-QT (LQT) syndrome type 2.
Congenital long-QT (LQT) syndrome can lead to torsades de pointes (TdP), which can deteriorate into ventricular fibrillation resulting in sudden death. Till now more than 16 genes have been linked to the LQT syndrome.
A 24-year-old Caucasian woman with a medical history of depression, no medication use and no family history of sudden death, presented with recurrent syncope during sexual activity. Immediately after achieving orgasm during sexual intercourse she lost consciousness. Baseline 12-lead electrocardiogram revealed a wide-based T-wave with a prolonged QTc-interval of 507 ms. During hospital admission runs of TdP were recorded. The patient was treated with magnesium, an oral beta-blocker, and an implantable cardioverter-defibrillator. Genetic testing (Sanger sequencing) revealed a novel mutation (c.361del) in the KCNH2 gene (chromosome 7q36).

To date, orgasm-induced TdP as the first symptom in a patient with LQT2 has not been published previously. The high levels of sympathetic adrenal hormones during orgasm may explain the timing of the TdP in this patient. The patient has remained free of syncope at 6 months of follow-up.
For more details click on the link: doi.org/10.1093/ehjcr/yty062