Organic Food consumption reduces cancer risk: JAMA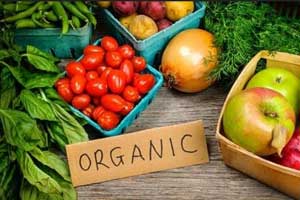 A new of its kind study published in JAMA Internal Medicine reports that a higher frequency of organic food consumption is associated with a reduced risk of cancer.
Organic food standards do not allow the use of synthetic fertilizers, pesticides, and genetically modified organisms and restrict the use of veterinary medications. As a result, organic products are less likely to contain pesticide residues than conventional foods.
Read Also: Novel Universal blood test for faster cancer detection
Due to lower exposure of organic foods to pesticide residues, the authors hypothesized that high organic food consumers may have a lower risk of developing cancer.
Julia Baudry et al. conducted a population-based cohort study to prospectively investigate the association between organic food consumption and the risk of cancer in a large cohort of French adults.
The investigators collected the data from participants with available information on organic food consumption frequency and dietary intake. For 16 products, participants reported their consumption frequency of labeled organic foods (never, occasionally, or most of the time). An organic food score was then computed (range, 0-32 points) and was followed for 6.5 years.
The key study findings included are:


Among 68 946 participants, 1340 first incident cancer cases were identified during follow-up, with the most prevalent being 459 breast cancers, 180 prostate cancers, 135 skin cancers, 99 colorectal cancers, 47 non-Hodgkin lymphomas, and 15 other lymphomas.


High organic food scores were inversely associated with the overall risk of cancer.


Read Also: Fruit and vegetable intake lowers pancreatic cancer risk
According to the authors, epidemiological research investigating the link between organic food consumption and cancer risk is scarce and the current study is the first to evaluate the frequency of organic food consumption associated with cancer risk using detailed information on exposure.
"In this large cohort of French adults, we observed that a higher organic food score, reflecting a higher frequency of organic food consumption, was associated with a decreased risk of developing NHL and postmenopausal breast cancer, while no association was detected for other types of cancer, "write the authors
For further reference log on to 10.1001/jamainternmed.2018.4357
Source : With inputs from JAMA Internal Medicine