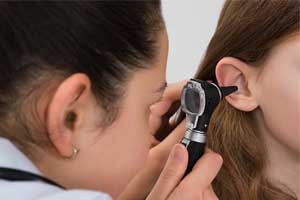 Cardiff, UK: Oral steroids may not be beneficial for children experiencing hearing loss associated with otitis media with effusion (OME), finds a new study.
Findings of the study, published in the journal Health Technology Assessment suggests that benefit from a short course of oral steroids for OME is likely to be small and of questionable clinical significance, and that the treatment is unlikely to be cost-effective and, therefore, their use cannot be recommended. This is due to the higher frequency of spontaneous resolution in such children.
Hearing loss associated with otitis media with effusion (OME) in children is commonly managed through surgical intervention, hearing aids or watchful waiting. Treatment options could be enhanced by a safe, inexpensive, effective medical treatment. Underpowered, poor-quality trials have found short-term benefit from oral steroids.
Nick A Francis, Division of Population Medicine, School of Medicine, Cardiff University, Cardiff, UK, and colleagues conducted this double-blind, individually randomized, placebo-controlled trial to investigate whether a 7-day course of oral steroids would help in improving hearing at 5 weeks in children with persistent OME symptoms and hearing loss.
For the study, the researchers randomized 389 children aged  2–8 years, with symptoms of hearing loss attributable to OME for at least 3 months, a diagnosis of bilateral OME made on the day of recruitment and audiometry-confirmed hearing loss. They received a 7-day course of oral soluble prednisolone, as a single daily dose of 20 mg for children aged 2–5 years or 30 mg for 6- to 8-year-olds, or matched placebo.
The primary outcome was acceptable hearing at 5 weeks from randomization. Secondary outcomes comprised acceptable hearing at 6 and 12 months, tympanometry, otoscopic findings, health-care consultations related to OME and other resource use, proportion of children who had ventilation tube (grommet) surgery at 6 and 12 months, adverse effects, symptoms, functional health status, health-related quality of life, short- and longer-term cost-effectiveness.
Key Findings:
A satisfactory hearing at 5 weeks was achieved by 39.9% and 32.8% in the oral steroid and placebo groups, respectively. This difference was not statistically significant.
The secondary outcomes were consistent with the picture of a small or no benefit, and there were no subgroups that achieved a meaningful benefit from oral steroids.
The economic analysis showed that treatment with oral steroids was more expensive and accrued fewer quality-adjusted life-years than treatment as usual. However, the differences were small and not statistically significant, and the sensitivity analyses demonstrated a large variation in the results.
"Studies exploring optimal approaches to sharing natural history data and enhancing shared decision-making are needed for this condition," concluded the authors.
For further reference follow the link: https://doi.org/10.3310/hta22610