Ophthalmologists with old training might lack skills to screen Glaucoma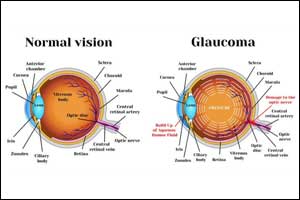 Glaucoma is a leading cause of irreversible blindness globally and large-scale surveys from India recently put this ailment as a significant contributor to visual impairment and blindness. Over years new technology of screening and detecting Glaucoma has evolved which may help in saving eyesight of many patients. According to a New pan-India Study published in the International Journal of Glaucoma, majority of Ophthalmologists with old training might lack skills to screen Glaucoma and need self-assessment of skills.
According to Residency Evaluation and Adherence Design Study (READS) most of ophthalmologists across the country, who were trained a couple of decades back, might lack skills to screen patients for glaucoma . In the study as many as seven thousand practising ophthalmologists were across the country were involved on a qualitative basis. It was found that those trained after the year 2000 reported better exposure to autoperimetry, pachymetry, applanation tonometry, optical coherence tomography, and+78/+90D lens optic disc evaluation, as compared with those trained in the last century and who have now been practising for a couple of decades or more.
In Glaucoma early diagnosis and treatment is only way of limiting disability and visual impairment and as primary glaucoma may be present in a patient without any symptoms, an Ophthalmologist must be vigilant to 'catch' this 'silent thief of vision'. The ophthalmologist must be alert to signs of narrow angles, cupping of the disc, raised intraocular pressure and visual field loss encountered in Glaucoma.
Speaking to Pune Mirror, Dr Gogate said, "The study included two groups of ophthalmologists. The first group had those who were trained between 2000 and 2017 and were into practice over the last 3 to 5 years, while the other group included doctors who were trained between 1970 and 2000 and had been practising for almost a couple of decades. Those who were trained in recent times are well versed with the advanced protocols to identify glaucoma. Slit-lamp examination, automated perimetry, direct ophthalmoscopy, pachymetry, applanation tonometry, optical coherence tomography, gonioscopy,+78/+90D and surgeries like YAG iridotomy and trabeculectomy are the clinical and surgical skills taught to the doctors included for the study."
He added, "The study was conducted to show that doctors trained before 2000 were not sufficiently trained or emphasised to identify glaucoma early. We have suggested that a re-assessment for these doctors will be a better option and if necessary they can upgrade their skills to fight glaucoma."
Dr Prakash Marathe, president of the Maharashtra ophthalmological society, told Mirror, "With the new advancement in techniques of investigation, surgeries and treatment, it has become easier to identify glaucoma at present. Earlier, glaucoma as a disease used to be diagnosed late and treated as per the available treatment facility. If we suspect that a person is suffering from glaucoma and screen him/her the diagnosis is still often late. The comparison done in the study does not mean that the doctors who were trained in the previous century are not clever or unskilled. They have their own skills to identify the diseases and they used to their best in treating patients according to existing methods, technology and their experience."
Marathe added, "But currently the techniques for investigation have increased and these help the ophthalmologist to identify the disease easily and more cases get detected. Theoretical reassessment can be done to identify the disease and patients can be screened for glaucoma with the latest investigating tests."
Source : With inputs Pune Mirror