One in four people over 25 will experience serious stroke during lifetime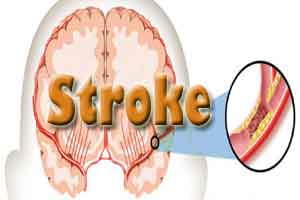 One in four people in the world over the age of 25 will experience a debilitating stroke during their lifetime, a new study estimates. The study estimates the lifetime risk of stroke at the regional, country, and global level and has been published in the New England Journal of Medicine.
The Global Burden of Disease, GBD 2016 Lifetime Risk of Stroke Collaborators conducted a new study and have found that the global lifetime risk of stroke is approximately 25% starting at the age of 25 years among both men and women, and there is large geographic variation, with a particularly high lifetime risk of stroke in East Asia, Central Europe, and Eastern Europe.
The team led by Dr Gregory Roth at the University of Washington, in Seattle.used data from the Global Burden of Disease study to estimate the lifetime risk for having a stroke for those over the age of 25.
The investigators looked at the two major forms of stroke: ischemic strokes, caused by clots, which make up about 85 per cent of strokes; and strokes caused by bleeding in the brain, called hemorrhagic strokes, which make up about 15 per cent. The data came from 195 countries and spanned the years 1990 to 2016.
The researchers found that the risk of stroke for people over the age of 25 ranged from 8 per cent to 39 per cent, depending on where in the world they lived. The Chinese had the highest risk (with more than a 39 per cent lifetime risk), followed by people in Central and Eastern Europe. The lowest risk was among those living in sub-Saharan Africa. The mean global lifetime risk of stroke increased from 22.8% in 1990 to 24.9% in 2016, a relative increase of 8.9% (95% uncertainty interval, 6.2 to 11.5); the competing risk of death from any cause other than stroke was considered in this calculation.
"These findings suggest that adults need to think about their long-term health risks, including stroke, at a much younger age," Roth said.
For further reference-
DOI:
10.1056/NEJMoa1804492