One-hour Glucose a better predictor of Diabetes risk, finds new study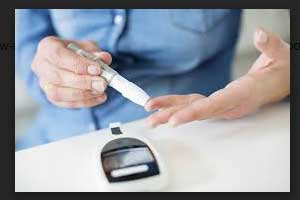 A new study appearing in the Journal of Clinical Endocrinology & Metabolism has found that one-hour glucose level during an oral glucose tolerance test (OGTT) is a strong predictor for future risk of type 2 diabetes (T2D), outperforms the two-hour glucose level and is cheaper to measure than metabolites.
Early dysglycaemia prediction is crucial for preventing the progression of type 2 diabetes. The one-hour post-load plasma glucose (1-h PG) has been reported as a better dysglycaemia predictor compared with 2-h PG, fasting plasma glucose (FPG), and glycated hemoglobin (HbA1c).
Gopal Peddinti, VTT Technical Research Center of Finland Ltd, Espoo, Finland, and colleagues conducted this Botnia Prospective Study to evaluate the predictive performance of clinical markers, metabolites, HbA1c, and plasma glucose (PG) and serum insulin (INS) levels during a 75-gram OGTT.
They evaluated 1,527 predictive models which included various combinations of these variables.
Also Read: Renal denervation regulates blood glucose levels: JACC study
Key Findings:


Among the plasma glucose measurements, the one-hour plasma glucose showed the best predictive performance for type 2 diabetes, with 75% sensitivity, 68% specificity and 75% accuracy (by AUC), followed by the 30-minute plasma glucose, with 62% sensitivity, 71% specificity and 71% accuracy. Both measures were more accurate than fasting plasma glucose or two-hour plasma glucose.


One-hour plasma glucose also outperformed every other metabolite except mannose (which was not significantly worse), and no combination of metabolites significantly outperformed one-hour plasma glucose alone.


Several combinations of metabolic markers, clinical risk factors, and one-hour plasma glucose outperformed one-hour plasma glucose alone. But the addition of one-hour plasma glucose improved the predictive performance of 184 models without it, including every combination of metabolites with and without the clinical risk factors.


The addition of HbA1c alone did not significantly improve the performance of any of the models.


Also Read: One egg a day may lower diabetes risk, finds new study
"Individuals with 1-hour PG >=8.6 mmol/L (155 mg/dl) have a very high risk of developing T2D and should be subjected to adequate life-style intervention and follow-up," Dr. Peddinti told Reuters Health. "Our study, in principle, indicates that metabolite measurements could improve our ability to identify individuals at risk of T2D, but cheaper and more accurate assays to measure metabolites would be needed to realize their added value in practice."
"Metabolites add to the predictive value of PG and HbA1c measurements. Shortening the standard 75-gram OGTT to one hour improves its predictive value as well as clinical usability," concluded the authors.
For further reference log on to https://doi.org/10.1210/jc.2018-01828
Source : With inputs from Journal of Clinical Endocrinology & Metabolism