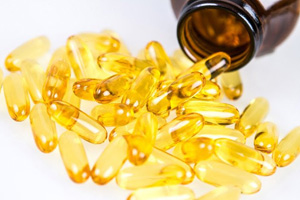 The omega-3 pill Amarin's Vascepa (icosapent ethyl) — approved for the treatment of very high triglyceride levels — significantly reduced the risk for cardiovascular events in patients at high CV risk treated with statin. Findings from the REDUCE-IT trial will be presented at the annual meeting of the American Heart Association.
REDUCE-IT is a global study of 8,179 statin-treated adults with elevated CV risk. The trial met its primary endpoint demonstrating an approximately 25% relative risk reduction, to a high degree of statistical significance (p<0.001), in major adverse CV events (MACE) in the intent-to-treat patient population with the use of Vascepa 4 grams/day as compared to placebo.
Patients enrolled in REDUCE-IT had LDL-C between 41-100 mg/dL (median baseline LDL-C 75 mg/dL) controlled by statin therapy and various cardiovascular risk factors including persistent elevated triglycerides (TGs) between 150-499 mg/dL (median baseline 216 mg/dL) and either established cardiovascular disease (secondary prevention cohort) or diabetes mellitus and at least one other CV risk factor (primary prevention cohort).
Key Findings:
Efficacy: Approximately 25% relative risk reduction, demonstrated to a high degree of statistical significance (p<0.001), in the primary endpoint composite of the first occurrence of MACE, including cardiovascular death, nonfatal myocardial infarction (MI), nonfatal stroke, coronary revascularization, or unstable angina requiring hospitalization. This result was supported by robust demonstrations of efficacy across multiple secondary endpoints.
Safety:  Vascepa was well tolerated with a safety profile consistent with clinical experience associated with omega-3 fatty acids and current FDA-approved labeling. The proportions of patients experiencing adverse events and serious adverse events in REDUCE-IT were similar between the active and placebo treatment groups. Median follow-up time in REDUCE-IT was 4.9 years.
"Given Vascepa is affordably priced, orally administered and has a favorable safety profile, REDUCE-IT results could lead to a new paradigm in treatment to further reduce the significant cardiovascular risk that remains in millions of patients with LDL-C controlled by statin therapy, as studied in REDUCE-IT," John F. Thero, president, and CEO of Amarin, said in the company's press release.
Dr. Harlan Krumholz of NEJM Journal Watch Cardiology commented: "It is important to remember that this is an announcement — there is no presentation, preprint, or paper yet. But the findings are exciting, unexpected, and provocative — and have raised great interest for the release of more information at the AHA Scientific Sessions."
About VASCEPA (icosapent ethyl) Capsules
Vascepa (icosapent ethyl) capsules are a single-molecule prescription product consisting of the omega-3 acid commonly known as EPA in ethyl-ester form. Vascepa is not fish oil but is derived from fish through a stringent and complex FDA-regulated manufacturing process designed to effectively eliminate impurities and isolate and protect the single molecule active ingredient. Vascepa, known in scientific literature as AMR101, has been designated a new chemical entity by the FDA.  Amarin has been issued multiple patents internationally based on the unique clinical profile of Vascepa, including the drug's ability to lower triglyceride levels in relevant patient populations without raising LDL-cholesterol levels.
Indication and Usage:
Vascepa (icosapent ethyl) is indicated as an adjunct to diet to reduce triglyceride (TG) levels in adult patients with severe (≥500 mg/dL) hypertriglyceridemia.
The effect of Vascepa on the risk for pancreatitis and cardiovascular mortality and morbidity in patients with severe hypertriglyceridemia has not been determined.