Omega-3 fatty acids prevent muscle wasting during recovery from injury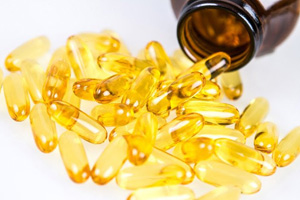 Canada: Omega-3 fatty acids supplements may help prevent atrophy of muscles when not in use during recovery from an injury.
A new study published in the FASEB Journal has found that omega-3 fatty acid supplementation can help in reducing muscle loss due to disuse that would be beneficial during the period of recovery from an injury when one can't work out as usual. The researchers believe that fatty acid may help your body repair and build muscle.
Chris McGlory, Department of Kinesiology, McMaster University, Hamilton, Canada, and colleagues determined the influence of n-3 fatty acid supplementation on muscle size, mass, and integrated rates of myofibrillar protein synthesis (MyoPS) following 2 week of muscle disuse and recovery in women.
A common supplement you can find in any drugstore might just be your recovery secret weapon when you're sidelined by injury: Omega-3s just may stave off muscle loss when you have to press pause on your workout routine, the study suggests.
In the study, researchers separated a small sample of 20 healthy, young women into two groups: One group took a daily, 5-gram dose of an omega-3 supplement, and the control group took the same amount of a daily sunflower oil supplement.
After consuming the supplement for four weeks, participants had one of their legs immobilized for two weeks using a knee brace. During these two weeks, participants did not exercise and were just allowed normal daily physical activity, like walking around. This pretty much mimicked how you'd behave if you had an injury limiting your movement and putting your workouts on hold.
After the immobilization period, participants returned to their normal daily activity and exercise for a two-week recovery period.
Also Read: Omega-3 fatty acids no longer effective for heart attack: EMA
Key Findings:


The omega-3 supplement was found to be effective at reducing muscle loss due to disuse.


The supplement slowed the rate of muscle lost during the immobilization period compared to those taking the sunflower oil.


In people taking the sunflower supplement, their lean leg mass decreased by 6 percent by the end of the study, while participants who took the omega-3s did not see any significant changes during the immobilization or recovery period.


The omega-3 group also saw their muscle volume and mass recover fully to pre-immobilization levels by the end, while the control group did not, this may be because omega-3s increase the rate of something called muscle protein synthesis. That means it helps produce proteins to help your body build and repair muscle.


Also Read: Omega-3 fatty acids may prevent pregnancy complications including stillbirth
While researchers don't yet have a recommended amount of fish or omega-3s to take to aid in muscle recovery, adding an omega-3 supplement or just looking to eat more food sources of it, like salmon or flax seeds, to your diet won't hurt. Aside from being a potential muscle-recovery aid, fatty acid is also essential for heart, lung, and joint health, and can help boost the immune system.
For further reference log on to
https://doi.org/10.1096/fj.201801857RRR
Source : With inputs from FASEB