Understanding Omega 3 Fatty Acids and Heart Health- Dr Mayur Jain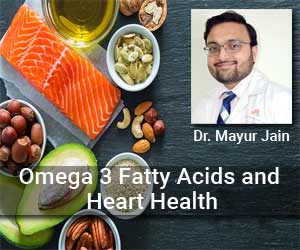 The monounsaturated fats that come from food sources are the Omega 3 fatty acids. Eicosapentaenoic acid (EPA) and docosahexaenoic acid (DHA) are the major types of long-chain omega-3 fatty acids. EPA and DHA are mainly gained from seafood consumption, primarily cold water fish (eg, salmon, trout, tuna, mackerel, and herring). Small amounts of EPA and DHA can also be synthesized in the body using alpha-linolenic acid (ALA), found in plants such as flaxseed, chia seeds, sunflower seeds, canola, and walnuts.
Fish oil pills contain both EPA and DHA types of omega 3 fatty acids are also known as Omega- 3 supplements.
What Are The Proposed Effects On Heart Health?


Triglycerides: Omega-3s can cause a major reduction in triglycerides, usually in the range of 15–30%.


Blood pressure: Omega-3s can reduce blood pressure levels in people with high blood pressure by stabilizing the endothelium and cell membrane.


"Good" HDL cholesterol: Omega-3s can increase "good" HDL cholesterol levels.


Blood clots: Omega-3s can avoid blood platelets from clumping together. This helps prevent the formation of harmful blood clots.


Inflammation: Omega-3s helps to reduce the production of some substances released during your body's inflammatory response.


Omega-3 fatty acids may also lead to improved endothelial function by promoting the release of nitric oxide from endothelial cells.


Omega-3 fatty acids also decrease resting systolic and diastolic blood pressure by incorporation of EPA and DHA into membrane phospholipids and therefore increasing systemic arterial compliance.


However, human trials are not suggestive of a consistent effect on coagulation factors and platelet aggregation, at least for commonly prescribed doses of omega-3 fatty acids.


How Is The Evidence? – Mixed Results !!
Omega-3 fatty acids are among the most commonly prescribed supplements with a remarkable worldwide market. People spent around $25 billion on omega-3 supplements in 2011. This amount is estimated to approach $35 billion in 2016.
But Is It Worth!
There have been various trials to study the actual effect of Omega 3 supplements in preventing CVD (cardiovascular disease) over the last 2 decades.
There are large studies done earlier showing positive results with omega 3 fatty acids and the Mediterranean diet.
Fish and other seafood are a major component of the Mediterranean diet. This diet is also rich in olive oil, fruits and vegetables, nuts, and cereals; besides a moderate consumption of poultry as well as a low intake of red meat, processed milk, and dairy products.
Multiple studies have suggested benefits for Mediterranean diet in reducing CVD risk factors. More importantly, a recent primary prevention randomized trial of over 7000 people with a high risk of vascular events showed that the Mediterranean diet supplemented with extra virgin olive oil, or with nuts, can reduce the rate of major cardiovascular events including myocardial infarction (MI), stroke and death from cardiovascular causes.
An open-label randomized controlled trial in the pre-statin era in Italy demonstrated that supplementation with 1 gram per day omega-3 significantly decreased combined primary endpoint of death, non-fatal MI, and non-fatal stroke among 2836 patients over a median follow up period of 42 months.
But Other Trials Do Not Show Many benefits!!
A randomized, placebo-controlled trial in France found no significant decrease in major cardiovascular events among 633 patients following the daily consumption of 600 mg omega-3 supplement for a median period of 4.7 years.
Another trial in the Netherlands showed that supplementation did not significantly reduce the incidence of major cardiovascular events among 1192 patients during a period of 40 months.
The OMEGA trial in Germany found no additional protection against sudden cardiac death and other cardiovascular events among 1925 patients treated with the guideline-adjusted treatment of acute MI plus 1 gram omega-3 per day for one year
A recent study compiled data from 79 randomized clinical trials to evaluate the evidence. In all, the studies included 112,000 men and women who were followed for at least a year and sometimes up to eight years.
Most of the studies included omega 3 supplements, with very few measuring the amount of oily fish and plant-based omega 3s, the ALAs that were consumed. To make a solid conclusion about whether dietary sources of omega 3s were beneficial or not, there were not enough food-related studies.
They did find a very small beneficial effect from ALAs, which may slightly reduce the risk of heart attacks and perhaps death from heart disease but the effect is small. It would translate to 1 in 1,000 persons who might get some a benefit.
The conclusion was that omega 3 fatty acids do appear to reduce the type of blood cholesterol known as triglycerides,
Hence it is possible that the presumed basic and clinical benefits of these supplements are less robust than widely thought. It has been known that improving a risk factor would not necessarily lead to an improvement in hard endpoints such as mortality.
However, guidelines do recommend intake of Omega 3 fatty acids.
Dietary guidelines offered by the American Heart Association recommend the consumption of a variety of fish (preferably oily fish such as salmon, herring, and mackerel) at least twice a week.
How Do You Increase Omega 3 Consumption?
It is highly recommended to go for foodstuff rich in these fatty acids as described earlier rather than going in with the supplements.
Easy ways to get enough omega 3 fats in your diet is to put a tablespoon of ground flaxseed in your oatmeal. Throw some walnuts in your salad or stirfry. Make chia breakfast pudding or sprinkle some in your yogurt.
Consider the consumption of fish named above at least twice a week.
Dr Mayur Jain is a Consultant Cardiologist at Jaslok Hospital and Research Centre