Omega-3 fatty acid supplementation does not reduce premature delivery rates, finds study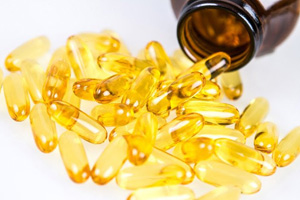 In a recent randomized trial published in the New England Journal of Medicine (NEJM), scientists have shown that supplementation with Omega-3 fatty acid does not reduce rates of preterm or premature delivery in women nor it increases post-term deliveries.
Omega-3 fatty acids also called n-3 fatty acids, exert important effects on eicosanoid metabolism, membrane properties, and gene expression and therefore are biologically important nutrients. Omega-3 fatty acid supplements are believed to reduce preterm delivery in pregnant women however prior studies have suggested that may also prolong gestation beyond term.
To ascertain the role of omega-3 fatty acids in pregnancy Maria Makrides from South Australian Health and Medical Research Institute and colleagues conducted a multicenter, double-blind, randomized trial in which women who were pregnant with single or multiple fetuses were assigned to receive either fish-oil capsules that contained 900 mg of n−3 long-chain polyunsaturated fatty acids (n−3 group) or vegetable-oil capsules that contained trace n−3 long-chain polyunsaturated fatty acids (control group) daily, beginning before 20 weeks of gestation and continuing to 34 weeks of gestation or delivery, whichever occurred first.
The primary outcome was early preterm delivery, defined as delivery before 34 completed weeks of gestation. Other pregnancies and neonatal outcomes were also assessed.
Key Findings


There were 61 early preterm deliveries in the n-3 group and 55 early preterm deliveries in the vegetable-oil group.



There were no significant differences between the groups in the incidence of interventions in post-term (>41 weeks of gestation) deliveries, in adverse events, or in other pregnancy or neonatal outcomes, except that a higher percentage of infants born to women in the n−3 group than in the control group was very large for gestational age at birth.



Percentages of serious adverse events did not differ between the groups. Minor gastrointestinal disturbances were more commonly reported in the n−3 group than in the control group.


Based on their results, the authors concluded that Supplementation with n−3 long-chain polyunsaturated fatty acids from early pregnancy (<20 weeks of gestation) until 34 weeks of gestation did not result in a lower incidence of early preterm delivery or a higher incidence of interventions in post-term deliveries than control.