Omega‐3 supplements reduce aggressive behavior in children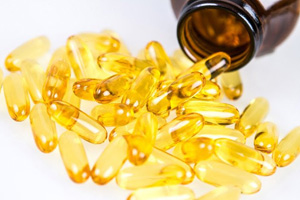 Providing omega‐3 supplements to children reduces disruptive and abusive behavior in them, which in turn can have long‐term benefits to the family system as a whole, according to a new study published in the journal Aggressive Behavior.
Jill Portnoy, an assistant professor in UMass Lowell's School of Criminology and Justice Studies, and colleagues conducted the study to examine whether omega‐3 supplementation in children could reduce intimate partner violence or child maltreatment by their adult caregivers.
"This is a promising line of research because omega-3 fatty acids are thought to improve brain health in children and adults. There is more to be learned about the benefits, but if we can improve people's brain health and behavior in the process, that's a really big plus," said Portnoy.
According to Portnoy, giving children omega-3 fatty acid supplements reduces disruptive behavior, which in turn had a positive effect on their parents, making them less likely to argue with each other and engage in other verbal abuse.
Read Also: Omega 3 supplements do not benefit heart health : Cochrane Review
In this randomized, double‐blind, placebo‐controlled, stratified, parallel group trial, a community sample of children were randomized to receive either a fruit drink containing 1 gm of omega‐3 fats (Smartfish Recharge; Omega‐3 group, n = 100) or the same fruit drink without omega‐3's (Placebo group, n = 100).
Adult caregivers reported inter‐partner and child‐directed physical assault and psychological aggression at baseline, 6 months (end of treatment) and 12 months (6 months post‐treatment) using the Conflicts Tactics Scale.
Key Findings:


Caregivers of children in the omega‐3 group reported long‐term reductions in psychological aggression in a group × time interaction.


Improvements in adult psychological aggression were correlated with improvements in child externalizing behavior scores.


No differences were reported for child maltreatment.


That work takes Portnoy into the heart of the "nature versus nurture" debate - whether people who commit crimes have something in their physiological makeup that predisposes them to doing so or if social factors like abusive family situations lead them to it.
"Of course, it's both," she said, but exactly how is still to be determined. "Biology and social environment interact in complex ways that we're just beginning to figure out. Before we can design effective interventions, we need to do research to understand what's happening."
Portnoy is exploring such a connection through another research project that is looking at how a low resting heart rate may lead to anti-social behavior.
"My theory is that a low resting heart rate might be an acquired, adaptive trait: If you are subjected to chronic or frequent stress as a child, you adapt by lowering your heart rate. The lower heart rate protects you by blunting your reaction to stressful events, but it can also lead to stimulation-seeking behavior. In other words, a stressful environment may cause physiological changes that lead to an increase in aggressive and impulsive behavior, in addition to causing the behavior directly," she said.
Through this study, Portnoy and her team will examine what she describes as a continuum of criminal behavior with the goal of finding new ways to prevent it.
"This study is the first to show that omega‐3 supplementation in children can reduce inter‐partner psychological aggression among adult caregivers not receiving supplements. Our findings suggest that improving child behavior through omega‐3 supplementation could have long‐term benefits to the family system as a whole," concluded the authors.
For more information log on to
https://doi.org/10.1002/ab.21769
Source : With inputs from Aggressive Behavior