Omalizumab good at preventing food allergies after accidental exposure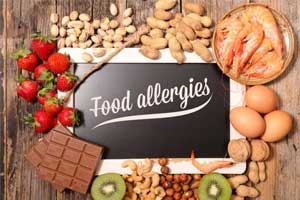 Omalizumab may be a breakthrough therapy for preventing food allergies and consequent reactions after accidental exposure of offending foods.
The U.S. Food and Drug Administration (FDA) has granted Breakthrough Therapy Designation for Genentech's Xolair (omalizumab), for the prevention of severe allergic reactions following accidental exposure to 1 or more foods in patients with allergies.
Food allergies can have a significant impact on the lives of children and adults, and they are a growing public health concern for which there are currently no FDA-approved treatments," said Roche's chief medical officer Sandra Horning.
"We are committed to helping address this high unmet medical need and look forward to working with leaders in the field to further develop Xolair as a potential medicine to help people with this condition that can be life-threatening," she added.
Also Read: Histamine-releasing factor causes food allergy also in addition to Asthma
The Breakthrough Therapy Designation was granted on the basis of data from 7 studies that evaluated the efficacy and safety of Xolair against various food allergens (eg, peanut, milk, egg, others). In these studies, Xolair was assessed as monotherapy or in combination with oral immunotherapy. A potentially pivotal study evaluating Xolair in the treatment of multiple food allergies is also being planned by Genentech, Novartis, the National Institute of Allergy and Infectious Diseases (NIAID), and the Consortium of Food Allergy Research (CoFAR); the details of this study will be released at a later time.
About Omalizumab(Xolair)
Omalizumab(Xolair) is a monoclonal antibody targeting Immunoglobulin E (IgE), currently approved for the treatment of:


Moderate to severe persistent asthma in patients six years of age or older whose asthma symptoms are not controlled by asthma medicines called inhaled corticosteroids. A skin or blood test is performed to see if a patient has allergies to year-round allergens.


Chronic idiopathic urticaria (CIU; chronic hives without a known cause) in patients 12 years of age and older who continue to have hives that are not controlled by H1 antihistamine treatment.


Omalizumab(Xolair) is available as 150mg strength powder for subcutaneous injection after reconstitution in single-use vials.
Source : press release