Omadacycline - New once daily antibiotic for CABP, Skin Infections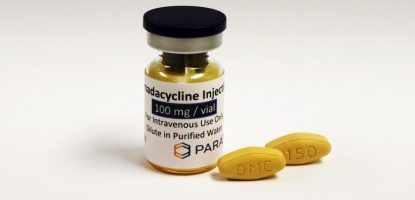 U.S. Food and Drug Administration (FDA) has accepted the New Drug Applications (NDAs) and granted a priority review for omadacycline, an investigational once-daily oral and intravenous (IV) broad spectrum antibiotic. Paratek is seeking approval of omadacycline, a modernized tetracycline, for the treatment of community-acquired bacterial pneumonia (CABP) and acute bacterial skin and skin structure infections (ABSSSI). The two NDAs were granted priority review based on the significant unmet medical need for new agents to treat ABSSSI and CABP. In addition to Priority review, omadacycline has previously been granted Qualified Infectious Disease Product (QIDP) and Fast Track designations for the treatment of CABP and ABSSSI.
Omadacycline is an antibiotic in a new class of compounds, aminomethylcyclines, that are related to the tetracycline class.Omadacycline is being developed as a once-daily, broad spectrum antibiotic with IV and oral formulations for use as empiric monotherapy in patients suffering from serious community-acquired bacterial infections.Omadacycline has broad spectrum activity for gram-positive, gram-negative, aerobes, anaerobes and atypical bacteria. In vitro and In vivo studies have shown omadacycline has activity against drug resistant pathogens, including methicillin-resistant Staphylococcus aureus (MRSA), penicillin-resistant and multi-drug resistant Streptococcus pneumoniae (PRSP and MDRSP), vancomycin-resistant Enterococcus species (VRE) and extended spectrum β-lactamase producing enterobacteriaceae (ESBL).
"Antibiotic resistance is on the rise, and the need for new antibiotics is urgent. The FDA acceptance of these applications brings us one step closer to providing physicians an important new option in the fight against community-acquired infections," said Evan Loh, MD, President, Chief Operating Officer and Chief Medical Officer of Paratek. "With both oral and IV formulations, omadacycline has the potential to be the first once-daily oral and IV tetracycline antibiotic approved in nearly 20 years. Based upon its demonstrated clinical profile, omadacycline enables physicians to transition their patients from hospital to home faster, thereby reducing overall health care costs."
The NDAs are supported by the Company's Phase 3 program for omadacycline, which included three pivotal registration studies: two studies in ABSSSI and one study in CABP. Omadacycline met all required FDA and European Medicines Agency (EMA) primary endpoints in each study and demonstrated a generally safe and well-tolerated profile.
In the NDA acceptance letter, the FDA stated that no filing or potential review issues were identified at this time. The FDA stated that it is currently planning to hold an advisory committee meeting to review these applications.
"The FDA's acceptance of our NDA filings with Priority Review represents an important step forward for omadacycline and Paratek," said Michael Bigham, Chairman and Chief Executive Officer. "We look forward to continue working with the FDA during the review process. We remain excited about the potential for omadacycline to serve as a much-needed new antibiotic for patients and physicians."
Source : Press Release