Older Women Who Use Bisphosphonates Need Fewer Knee Replacements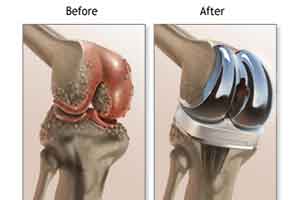 The rate of knee replacement surgery among older women with knee osteoarthritis is lower in those who take bisphosphonates than in those who don't, according to a database study.The findings were published online October 7 in Annals of the Rheumatic Diseases.
Neogi T et al. in population-based cohort study evaluated the effects of bisphosphonate use on the clinically relevant endpoint of knee replacement (KR) surgery. Past trials of bisphosphonates in knee osteoarthritis have yielded conflicting results.
The researchers used data from The Health Improvement Network (THIN), a general practitioner electronic medical records representative of the general UK population. We identified older women who had initiated bisphosphonate use after their incident knee OA diagnosis. Each bisphosphonate initiator was propensity score-matched with a non-initiator within each 1-year cohort accrual block. The effect of bisphosphonates on the risk of KR was assessed using Cox proportional hazard regression.
The researchers identified 2006 bisphosphonate initiators, who were matched to 2006 non-initiators(mean age 76, mean body mass index 27), with mean follow-up time of 3 years. The crude incidence rate of KR was 22.0 per 1000 person-years among the initiators, and 29.1 among the non-initiators. Bisphosphonate initiators had 26% lower risk of KR than non-initiators(HR 0.74, 95% CI 0.59 to 0.93); these results were similar when additionally adjusted for potential confounders in the propensity score (HR 0.76, 95% CI 0.60 to 0.95). Results of sensitivity analyses supported this protective effect.
It was concluded that in older women with incident knee OA, those with incident bisphosphonate users had a lower risk of KR than non-users of bisphosphonates, suggesting a potential beneficial effect of bisphosphonates on knee OA.