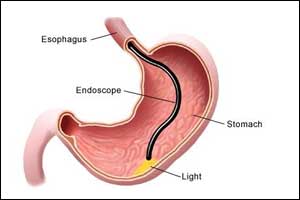 Oesophagogastroduodenoscopy is the most commonly performed GI endoscopic procedure all over the world.In our country busy teaching unit may be doing more than a thousand procedures a month yet there are lots of variations about the protocols being followed in different units and the way the trainees are trained. This leads to the poor outcome of the procedure affecting the patient care. Many doctors start performing this procedure without adequate supervised training leading to life-threatening complications at times.
British Society of Gastroenterology(BSG) recently published the guidelines after studying all aspects of this procedure over a long period of time from many centers in UK and Ireland and came up with a number of recommendations as below. I believe adhering to most of these recommendations will certainly lead to a better outcome of this simple wonderful procedure. Utilization of narrow band imaging, a simple technique will also significantly improve early detection of premalignant lesions during OGD.
 The present document represents the first position statement produced by the British Society of Gastroenterology and Association of Upper Gastrointestinal Surgeons of Great Britain and Ireland, setting out the minimum expected standards in diagnostic upper gastrointestinal endoscopy. The need for this statement has arisen from the recognition that while technical competence can be rapidly acquired, in practice the performance of a high- quality examination is variable, with an unacceptably high rate of failure to diagnose cancer at endoscopy. The importance of detecting early neoplasia has taken on greater significance in this era of minimally invasive, organ-preserving endoscopic therapy. In this position statement the authors describe 38 recommendations to improve diagnostic endoscopy quality. Their goal is to emphasise practices that encourage mucosal inspection and lesion recognition, with the aim of optimising the early diagnosis of upper gastrointestinal disease and improving patient outcomes.
The main focus of this process is on technical competence and procedural safety, with the ability to complete the examination without complications being the primary objective. A combination of a known average rate of failure to diagnose cancer at endoscopy of 11.6%, coupled with a paradigm shift towards detecting early cancers which may be potentially amenable to organ-preserving endoscopic therapy, has necessitated an improvement in quality. Following the institution of auditable measures, colonoscopy has experienced a significant improvement in quality. It is hoped that a similar implementation of standards can replicate this phenomenon in UGI endoscopy.
Preprocedure quality standards
Patients should be assessed for fitness to undergo a diagnostic OGD.
Patients should receive appropriate information about the procedure, before undergoing an OGD.
An appropriate time slot should be allocated dependent on procedure indications and patient characteristics.
Informed consent should be obtained before performing an OGD.
A safety checklist should be completed before starting an OGD.
A checklist should be undertaken after completing an OGD, before the patient leaves the room.
 Procedure quality standards
 Only an endoscopist with appropriate training and the relevant competencies should independently perform OGD.
We suggest that endoscopists should aim to perform a minimum of 100 OGDs a year to maintain a high-quality examination standard.
UGI endoscopy should be performed with high-definition video endoscopy systems, with the ability to capture images and take biopsies.
A complete OGD should assess all relevant anatomical landmarks and high-risk stations.
Photo-documentation should be made of relevant anatomical landmarks and any detected lesions.
The quality of mucosal visualization should be reported.
Adequate mucosal visualization should be achieved by a combination of adequate air insufflation, aspiration and the use of mucosal cleansing techniques.
It is suggested that the Inspection time during a diagnostic OGD should be recorded for surveillance procedures, such as Barrett's oesophagus and gastric atrophy/intestinal metaplasia surveillance.Where a lesion is identified, this should be described using the Paris classification and targeted biopsies taken
Endoscopy units should adhere to safe sedation practice.
Intravenous sedation and local anaesthetic throat spray can be used in conjunction if required. Caution should be exercised in those at risk of aspiration.
Disease-specific quality standards
The length of Barrett's segment should be classified according to the Prague classification.
Where a lesion is identified within Barrett's segment, this should be described using the Paris classification and targeted biopsies taken.
When no lesions are detected within Barrett's segment, biopsies should be taken in accordance with the Seattle protocol.
If squamous neoplasia is suspected, full assessment with enhanced imaging and/or Lugol's chromo-endoscopy is required.
Oesophageal ulcers and oesophagitis that is grade D or atypical in appearance, should be biopsied, with further evaluation in 6 weeks after proton pump inhibitor therapy.
The presence of an inlet patch should be photo-documented.
The presence of a hiatus hernia should be documented and measured.
Biopsies from two different regions in the oesophagus should be taken to rule out eosinophilic oesophagitis in those presenting with dysphagia/food bolus obstruction, where an alternate cause is not found.
Varices should be described according to a standardised classification.
Strictures should be biopsied to exclude malignancy before dilatation.
Gastric ulcers should be biopsied and re-evaluated after appropriate treatment, including H. pylori eradication where indicated, within 6–8 weeks.
Where there are endoscopic features of gastric atrophy or intestinal metaplasia separate biopsies from the gastric antrum and body should be taken.
Where iron deficiency anaemia is being investigated, separate biopsies from the gastric antrum and body should be taken, as well as duodenal biopsies if coeliac serology is positive or has not been previously measured.
Where gastric or duodenal ulcers are identified, H. pylori should be tested and eradicated if positive.
The presence of gastric polyps should be recorded, with the number, size, location, and morphology described, and representative biopsies were taken.
Where the coeliac disease is suspected, a minimum of four biopsies should be taken, including representative biopsies from the second part of the duodenum and at least one from the duodenal bulb.
A malignant looking lesion should be photo-documented and a minimum of six biopsies taken.
Postprocedure quality standards
After OGD readmission, mortality and complications should be audited.
A report summarising the endoscopy findings and recommendations should be produced and the key information provided to the patient before discharge.
A method for ensuring histological results are processed must be in place.
Endoscopy units should audit rates of failing to diagnose cancer at endoscopy up to 3 years before an oesophagogastric cancer is diagnosed.
It is hoped that with the institution of the above recommendations there will be a focus on improving quality in diagnostic UGI endoscopy. Key performance indicators have been determined from the above recommendations which should be instituted, measured and audited within departments. Improvement will be confirmed by an increased rate of early detection of neoplasia and a reduced incidence of interval cancers.
Dr. Shravan Bohra
The author MD, MRCP(London) and is Fellow, European Board of Gastroenterology and HOD: Gastroenterology/Hepatology, Dept of Gastroenterology, Apollo Hospitals International, Ahmedabad, Gujrat. He is a member Editorial Board, Gastroenterology at Specialty Medical Dialogues.
Disclaimer:
The views expressed in the above article are solely those of the author/agency in his/her private capacity and DO NOT represent the views of
Speciality Medical Dialogues
.