Odisha Conjoined twins: First phase of surgery completed successfully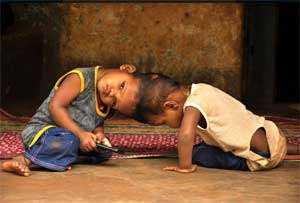 New Delhi: The first phase of surgery to separate two-year-old twins from Odisha, who are joined at the head, was completed successfully at AIIMS.
In the almost 20-hour-long surgery, the doctors performed venous bypass to separate the veins shared by the babies that return blood to the heart from the brain.
"The surgery began yesterday at around 9 am and went on till 5 AM today. The children are under observation," a senior doctor at AIIMS said.
According to the doctor, the surgery to separate them will be taken up by October end.
The twins - Jagannath and Balram - from Kandhamal district in Odisha, are craniopagus conjoined twins who are joined at the head. This is a very rare condition.
A team of around 20 specialists from the institute's neurosurgery, neuro-anaesthesia and plastic surgery department besides a Japanese expert were involved in the procedure.
A series of investigations, including multiple MRIs, CT scans and angiograms, were carried out on the twins to see to what extent the veins in their brains are fused and whether surgery was feasible.
The 27-month-old twins were shifted to AIIMS on July 13.
Meanwhile, the Odisha government said it would seek assistance of a specialist doctor from the US for the second phase of surgery on the conjoined twins.
"The health condition of the twins is stable. The government is now planning to engage a specialist doctor from the USA for the second phase of operation," state health and family welfare minister P K Jena told reporters here.
AIIMS, New Delhi neurosurgery department professor Ashok Mohapatra told the news agency's reporter in Bhubaneswar over phone that the twins have been kept on ventilation as the doctors are careful against any kind of infection.
Chief Minister Naveen Patnaik had yesterday tweeted "I join the people of Odisha in prayer for success of surgery and new life for the conjoined twins fondly called Jaga-Balaia. Jai Jagannath."
Earlier, Patnaik had sanctioned Rs one crore from the Chief Minister's Relief Fund for the surgery on the conjoined twins.
"We pray the God for the successful separation of their heads. The children are in ventilator. We wish for their speedy recovery," said Pushpanjali Kanhara and Bhuiya Kanhara, the parents of Jaga-Balia.
Deepak Gupta, professor of neurosurgery, had said the twins suffer from the condition which afflicts one in 30 lakh children, of which 50 per cent die either at birth or within 24 hours.
Surgery is feasible only on 25 per cent of the survivors while the rest continue to live with the condition.
"Also, there is less than a 20 per cent chance of survival among those who undergo this surgery. Such operations are extremely challenging," he had said.
Read also:
40 AIIMS doctors begin surgery to separate conjoined twins joined at head
Source : PTI