Obesity as strong a risk factor as Smoking for COPD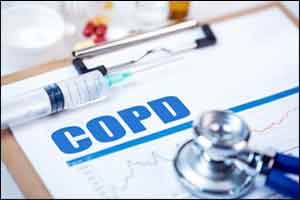 Although COPD has a strong correlation with smokers, there are numerous other risk factors that trigger the disease in individuals who have never smoked.
Morbidly obese older individuals who have never smoked have a much higher prevalence of chronic obstructive pulmonary disease(COPD) than never-smoking individuals who were normal weight, reports a study published in the Journal of Obesity.
There was a strong, graded relationship between chronic obstructive pulmonary disease and obesity level for both men and women, and this relationship was not explained by many of the known risk factors for COPD such as age, income, and education.
"Surprisingly few studies have focused on never smoking chronic obstructive pulmonary disease patients" stated co-author Senyo Agbeyaka, a recent graduate of the University of Toronto's Factor-Inwentash Faculty of Social Work "We wanted to address this gap in the literature by examining which factors are associated with COPD among never smokers aged 50 and older."
Read Also: Triple therapy lowers exacerbation rate in COPD: BMJ

"In addition to obesity, older age and lower income were associated with COPD among both men and women. Among women, but not men, height and education level were negatively associated with COPD, but being married was associated with higher odds of COPD." reported co-author Lilia Fuller-Thomson.
Esme Fuller and colleagues conducted a study to investigate the association between chronic obstructive pulmonary disease and levels of obesity in a nationally representative sample of non-Hispanic white never-smokers.
The study was based on a nationally representative sample of non-Hispanic white respondents aged 50 and older who reported that they had never smoked. The data were drawn from the 2012 Center for Disease Control's Behavioral Risk Factor Surveillance System. The final sample included more than 110,000 respondents of whom approximately 4,000 were morbidly obese and 5,000 reported that they had been diagnosed by a health professional with a chronic obstructive pulmonary disease.
"Unfortunately, the survey did not allow us to identify why older obese Americans who were never smokers had such a high prevalence of COPD. Future research is needed to investigate plausible mechanisms for this association, including the role of chronic inflammation associated with obesity and the impact of central obesity on respiratory system mechanics" stated co-author Kaitlyn Howden, an MD candidate at McMaster University.
Read Also: FDA approves once-daily, inhalation solution for COPD
According to the authors, the findings highlight the importance of health care professionals routinely screening their older obese patients for Chronic obstructive pulmonary disease, even when the patients have no history of smoking.
COPD is a major public health issue. It is a group of progressive lung disorders that make breathing difficult, including emphysema and chronic bronchitis. The best-known risk factor for the chronic obstructive pulmonary disease is smoking.
For full information log on to https://www.hindawi.com/journals/jobe/2018/6149263/
Source : With inputs from Journal of Obesity