................................ Advertisement ................................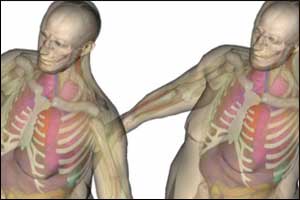 United Kingdom: Obese patients undergoing projection radiography receive a higher radiation dose [measured by dose area product (DAP)] as compared to normal-weighed adults, according to a new study.
The study, published in the Journal of Radiological Protection, therefore, suggests that radiation-related lifetime cancer risk is increased in obese as a result of medical radiation exposures patients. This indicates the need for more dose optimization research in obese patients to reduce dose rate and variation.
Saeed J.M. Alqahtani,  the University of Exeter in the United Kingdom, and colleagues conducted the study to:
................................ Advertisement ................................
evaluate the radiation dose delivered to patients with obesity in projection radiography and its relationship to the patient's size;
to estimate the subsequent projected radiation-related lifetime cancer risk to patients with obesity compared to normal-weight patients.
For the purpose, the authors reviewed data for 630 patients from a bariatric clinic with a history of projection radiography. Data on patients' DAPs were collected for all projection radiography. The effective risk for patients with obesity was compared to that of normal-weight patients based on absorbed doses generated from a PC program for X-ray Monte Carlo simulation using DAP data from this study and the U.K. national diagnostic reference level (NDRL).
................................ Advertisement ................................
Also Read: Cell phone radiation causes cancer in rats, does not apply to humans: Study
Key Findings:
Compared with the NDRL, patients with obesity received higher DAPs for all examinations included in the study.
The highest DAPs were for abdominal and lumbar spine radiographs (17.6 and 30.31 Gy cm², respectively) compared with the NDRL (2.5 and 4 Gy cm², respectively). In abdomen and chest radiographs, there were moderate-to-low correlations between a patient's size and DAP.
For patients with obesity, the projected radiation-related lifetime cancer risk is up to 153 percent higher compared with normal-weight adult patients.
Also Read: Low risk thyroid cancer patients can receive lower doses of radiation
"As a researcher and a radiographer, I believe these radiation doses figures are only to be expected due to the lack of guidelines to aid imaging this group of patients," said Alqahtani "As well as the doses of radiation given to the patient, many technical factors contribute to the image quality of an X-ray. We already started working on this issue in an attempt to produce prediction models that can aid radiographers to choose the best technical factors based on the patient's size."
................................ Advertisement ................................
"The findings of the current study may have implications for clinicians, radiographers, policy makers, and health economists. Clinicians should re-consider the radiation-related cancer risk when justifying x-ray procedure for patients with obesity, which is different to a patient with normal-weight." concluded the authors.
For further reference follow the link: https://doi.org/10.1088/1361-6498/aaf1dd
Author Details
Medha Baranwal joined Medical Dialogues as an Editor in 2018 for Speciality Medical Dialogues. She covers several medical specialties including Cardiac Sciences, Dentistry, Diabetes and Endo, Diagnostics, ENT, Gastroenterology, Neurosciences, and Radiology. She has completed her Bachelors in Biomedical Sciences from DU and then pursued Masters in Biotechnology from Amity University. She has a working experience of 5 years in the field of medical research writing, scientific writing, content writing, and content management. She can be contacted at medha@medicaldialogues.in. Contact no. 011-43720751
To know about our editorial team click here
................................ Advertisement ................................