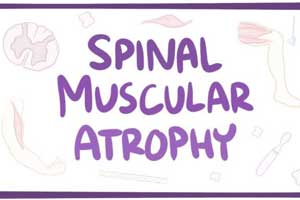 Nusinersen was found safe and effective in improving motor function in children with Spinal muscular atrophy(SMA)type 1 after six months of treatment particularly when treatment began before seven months of age, according to a study recently published the Journal of Neuromuscular Diseases.
Nusinersen is the first drug to be approved for SMA. It is an antisense oligonucleotide which leads to increased expression of more full-length and functional SMN protein by functionally converting the SMN2 gene into the SMN1 gene. Nusinersen is injected into the spinal canal to allow it to distribute to the central nervous system.
Spinal muscular atrophy (SMA) is a genetic disorder that affects motor neurons in the spinal cord, resulting in muscle atrophy and widespread weakness. It finally impairs swallowing and breathing. SMA type 1 is the most common and severe subtype of SMA. SMA is caused by mutations in the survival motor neuron (SMN) 1 gene, which codes for survival motor neuron protein. This leads to loss of function. The SMN 1 gene is located on chromosome 5q13.
"Our findings add to the increasing body of evidence that early diagnosis and initiation of treatment is fundamental for patients with infantile-onset spinal muscular atrophy," explained lead investigator Janbernd Kirschner, MD, of the Department of Neuropediatrics and Muscle Disorders.
Read Also: SPINRAZA, the only treatment approved for Spinal Muscular Atrophy
The researchers conducted an open-label study in Germany which involved  61 children with SMA type 1 and were treated with nusinersen between November 2016 and June 2017 who met EAP guidelines. Age of the patients ranged from a few months to almost 8 years. Symptoms generally appeared within the first three months after birth and most babies were diagnosed before six months of age. Prior to treatment, more than half of the children required ventilation support, 20% had already undergone a tracheostomy, and more than half required a feeding tube.
The study found improvements in motor function after six months of nusinersen therapy in many patients, and 34% of the patients achieved new motor developmental milestones.
A negative correlation was found between the age and positive outcomes of the treatment. Greater improvements were observed in children who started treatment at seven months or younger compared to those who started treatment after seven months. Patients who started therapy between two and four years of age also benefited from the treatment but the magnitude of the changes was less than those for infants. After six months of treatment also no child was able to stand or walk independently, and many still required tube feeding and ventilator support.

The study suggests that early diagnosis and initiation of treatment are key factors for patients with infantile-onset spinal muscular atrophy which focuses on the importance of screening of a newborn.
 "We have evidence that there is a critical therapeutic time window for delivery of SMN-targeted therapies," noted Dr. Kirschner. "The implementation of newborn screening for SMA is crucial to allow pre-symptomatic diagnosis", he added.
The study concluded that many children showed an improvement of motor function after six months of treatment with nusinersen, which is generally not expected within the natural course of the disease.
For reference log on to http://dx.doi.org/10.3233/JND-180-315