Novel eye drops may improve sight defect and replace reading glasses, finds study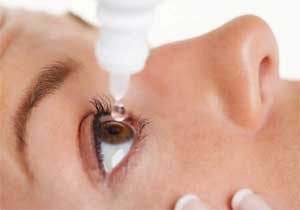 Topical Eye drops improving sight defects may sound like science fiction but it is true as novel drops passed their Phase 2b clinical trial earlier this month, meaning they've proven to improve farsightedness. Topical agents that temporarily treat presbyopia without affecting other aspects of vision are on the cusp of becoming approved and available for widespread use. The study pertaining to these novel eye drops was presented at the 2019 Annual Meeting of the American Academy of Ophthalmology, held between October 11 to 15.
The novel agent UNR844 contains a lipoic acid choline ester, which is hydrolyzed into choline and lipoic acid for better corneal penetration. It is then reduced to dihydrolipoic acid, which enters the lens and causes hydrolysis of proteins, creating a free flow of cytosol centrally and allowing the lens to change shape again.
"Presbyopia literally means 'old eye' and results in a gradual decrease in lens accommodation, leading to a significant lack of functional near vision," said Sheri Rowen, MD of NVISION Eye Centers in Newport Beach, during her presentation. "It affects the majority of people over the age of 40, with a target population of 30 to 40 million in the United States, and we have no approved pharmacologic treatment."
Currently, the mainstay of therapy includes reading glasses, contact lenses, and "a host of surgical procedures, which can be invasive and difficult to reverse," she continued.
Orasis Pharmaceuticals LTD. a clinical-stage pharmaceutical company is in process of developing a corrective eye drop for the treatment of presbyopia as an alternative to reading glasses, today announced its CSF-1 eye drop has successfully met the primary endpoint in a Phase 2b clinical study in individuals with presbyopia.
CSF-1 successfully demonstrated statistically significant improvement in distance-corrected near visual acuity of a 3-line or greater gain. In addition, CSF-1 demonstrated exceptional safety and tolerability profile. Full results from the study will be submitted for presentation at an upcoming medical meeting.
"The successful completion of the Phase 2b study is a significant milestone for Orasis. We are encouraged by these results and CSF-1's potential to improve the quality of life for people with presbyopia," said Elad Kedar, chief executive officer of Oasis. "CSF-1 can potentially alleviate the burden of reading glasses and offer a meaningful solution for billions of people living with age-related farsightedness worldwide."
"We are pleased with CSF-1's clinical performance in our Phase 2b study, as demonstrated by the positive efficacy, safety and tolerability results," said Ron Neumann, M.D., chief medical officer of Orasis, "We look forward to presenting additional details at an upcoming ophthalmology meeting. In the meantime, we are moving forward as quickly as possible with our preparation for Phase 3."
The Phase 2b study (NCT03885011) was a multi-centre, double-masked clinical trial that evaluated the efficacy and safety of CSF-1 in 166 participants across several research centres in the U.S.
For more details about the study, please visit
ClinicalTrial.gov
.