Not every calcification is calculus-A case study
The case describes a 59-year-old postmenopausal lady presented with back pain. She had hypertension, well controlled on a single antihypertensive and a normal renal function. Plain radiograph (Figure 1) showed "ring-like" calcification in the region of her kidneys. CT angiography revealed bilateral calcified saccular renal artery aneurysms (RAA) < 2cms in size, arising from the segmental vessels at the hilum (Figure 2). Colour Doppler did not show any evidence of renal artery stenosis and renogram showed bilateral normal perfusion and function. Considering the low risk of complications in this patient, she was managed conservatively and was advised regular blood pressure monitoring and yearly follow up with imaging.
Read Also:
Bilateral Renal Infarctions During the Use of Painkiller (Sumatriptan)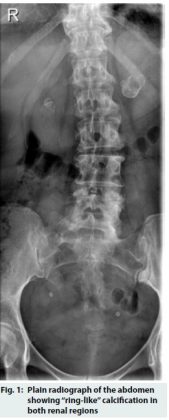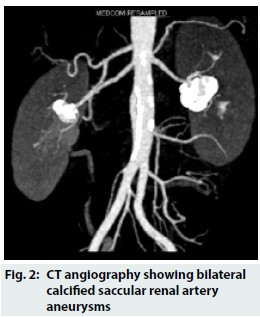 Courtesy: Journal of The Association of Physicians of India
The incidence of RAA is estimated to be around 0.09-0.3% with only a fourth of these being bilateral. Poutasse had described 4 types of RAA: saccular, fusiform, dissecting and intrarenal; with the saccular type accounting for >75%.
Read Also: Renal denervation found to lower blood pressure in hypertensive patients
Imaging is crucial for the diagnosis of RAA and presence of "ring-like" calcification on a plain abdominal radiograph should alert the physician. As calcification in RAA is seen in >50% of the cases, further imaging is essential to distinguish it from renal calculi prior to embarking on therapy like extracorporeal shockwave lithotripsy. Angiography is the gold standard, affords a 100% diagnostic rate. However, non-invasive imaging like CT and MR angiography (MRA) are ideal with sensitivity and specificity of MRA being 78% and 100% respectively.
Majority of the RAA are small and asymptomatic but assume clinical significance when associated with hypertension or impending rupture. Factors which may predispose to rupture include size > 2cms, absent or incomplete calcification, uncontrolled hypertension, and pregnancy. Endovascular treatment with stenting is the treatment of choice in most cases, with high rates of technical success and negligible complication and recurrence rates.
For reference log on to http://www.japi.org/october_2018/pc1.html#
Source : With inputs from Journal of The Association of Physicians of India