Skipping breakfast may increase risk of type 2 diabetes: Journal of Nutrition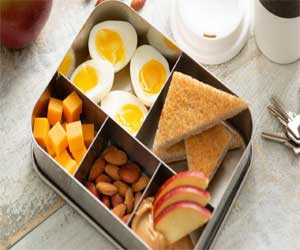 Although breakfast is considered to be the most important meal of the day, some health enthusiasts may try to skip it to control the intake of calories for maintaining weight but this may not be a good idea.
Now, a new study has claimed the importance of breakfast stating that if you skip breakfast, you are more likely to develop type 2 diabetes (T2D).
The review, published in the Journal of Nutrition provides evidence that skipping breakfast is associated with an increased T2D risk, and the association is partly mediated by body mass index (BMI).
Some epidemiologic studies have suggested a relation between breakfast skipping and risk of T2D. However, there are no studies on the dose-response relation and the influence of adiposity on this association. Sabrina Schlesinger, Heinrich Heine University Düsseldorf, Düsseldorf, Germany, and colleagues conducted a systematic review and meta-analysis to investigate the association between breakfast skipping and risk of type 2 diabetes by considering the influence of the BMI.
For the purpose, the researchers searched for databases on breakfast skipping and risk of type 2 diabetes in adults and finally identified included six prospective cohort studies comprising of total 96,175 participants.
Also Read: Skipping breakfast may up risk of Atherosclerosis: JACC
Key findings of the study include:


Participants who skipped breakfast had a RR of 1.33 for type 2 diabetes compared with those who never skipped breakfast.


After adjusting for BMI, the RR for type 2 diabetes among participants who skipped breakfast vs. those who did not was 1.22


Each additional day of breakfast skipping increased the risk of type 2 diabetes, according to the nonlinear dose-response meta-analysis.


At 4 to 5 days per week of skipping breakfast, the increased risk plateaued at 55%. Breakfast skipping for more than 5 days per week yielded no additional increase in type 2 diabetes risk.


Also Read: Eating breakfast does not help in weight control, finds study
"Our findings showed that the association was partly mediated by BMI," Schlesinger said. "But even after correction for BMI an association was still present. In our discussion, we speculated if dietary quality in general or overeating during the day could be possible explanations for this association.
"More studies are needed to strengthen the evidence on this association," she said. "Future studies should also focus on breakfast quality to support public health recommendations regarding breakfast consumption and health."
Source : With inputs from�Journal of Nutrition