Noninvasive testing no better than Clinical Evaluation for low risk Acute Chest Pain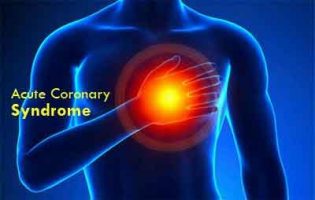 The results of Secondary Analysis of the ROMICAT-II Randomized Clinical Trial presented at the American Heart Association conference conclude that Noninvasive testing for acute chest pain in the emergency department is associated with no better clinical outcomes vis a vis clinical evaluation alone. There was no difference in missed diagnosis of acute coronary syndromes, development of major adverse cardiac events, and return ED visits.It however prolonged hospital stay.The study has been published in JAMA Internal Medicine.
An acute coronary syndrome (ACS) is usually caused by the rupture, fissure, or erosion of an atherosclerotic plaque resulting in intraluminal coronary thrombosis and downstream myocardial injury or infarction (MI) which presents a challenge of sorts.The implications of this study are that it can be inferred that Noninvasive testing to rule out acute coronary syndromes in low- and intermediate-risk patients who present to the ED with chest pain seems to provide no clinical benefit over clinical evaluation alone
Dr.Samuel W. Reinhardt and associates studied 1000 patients with chest pain suggesting acute coronary syndrome, plus negative biomarkers. The 88% who received any noninvasive testing (e.g., coronary CT angiography, treadmill test, stress echocardiography) were compared with patients who didn't receive testing beyond electrocardiogram and biomarker testing.
The patients who received only clinical evaluation had a shorter hospital stay than the noninvasive testing group (20 vs. 28 hours). Secondary outcomes like direct ED discharge, hospital admission rate, and 28-day rate of major cardiovascular events didn't differ between groups. The clinical evaluation group had lower ED costs (median, $1470 vs. $1940) and less radiation exposure.
In patients presenting to the ED with acute chest pain, negative biomarkers, and a nonischemic ECG result, noninvasive testing with CCTA or stress testing leads to longer LOS, more downstream testing, more radiation exposure, and greater cost without an improvement in clinical outcomes.The patients who underwent clinical evaluation without noninvasive testing had a shorter length of stay, less diagnostic testing, lower cumulative radiation exposure, and reduced cost.
For more details click on the link: https://jamanetwork.com/journals/jamainternalmedicine/fullarticle/2663304
Source : With inputs JAMA