................................ Advertisement ................................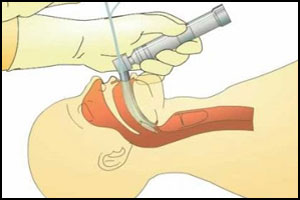 The supine position (SP) is the preferred position for emergency department (ED) patients undergoing orotracheal intubation. However, for obese patients or in patients with  a suspected difficult airway, ED providers are more likely to use non‐supine (NSP) positioning. Now, a recent study published in the journal Academic Emergency Medicine has found that NSP is associated with more adverse events but there are no differences in the first‐pass success of the two groups.
Intubation or tracheal intubation is the insertion of a flexible plastic tube (called an endotracheal tube) into the windpipe (trachea) to allow administration of certain drugs through an open airway.
Head‐up positioning for preoxygenation and ramping for morbidly obese patients are well-accepted techniques, but the effect of head‐up positioning with full torso elevation for all intubations is controversial. H. Hill Stoecklein, Division of Emergency Medicine, University of Utah, Salt Lake City, UT, USA, and colleagues compared first‐pass success, adverse events, and glottic view between supine (SP) and non‐supine (NSP) positioning for ED patients undergoing orotracheal intubation.
................................ Advertisement ................................
The researchers conducted a  retrospective analysis of prospectively collected data on medically indicated, non-trauma-related intubations in National Emergency Airway Registry (NEAR; n=11,480). They analyzed outcomes in patients with supine vs nonsupine (upright or ramped) positioning. Of 11,480 total intubations, 5.8% were performed in NSP.  The NSP group included significantly more obese patients and patients with a suspected difficult airway.
The primary outcome was first‐attempt intubation success and secondary outcomes were glottic views and peri‐intubation adverse events.
................................ Advertisement ................................
They found that:
First‐pass success and the overall rate of grade I glottic views were similar between groups while NSP had a significantly higher rate of grade I view when direct laryngoscopy was employed.
NSP was associated with higher odds of any adverse event.
"A randomized trial comparing patient positioning during intubation in the ED is warranted," concluded the authors.
For detailed study log on to https://doi.org/10.1111/acem.13805
Medha Baranwal joined Medical Dialogues as an Editor in 2018 for Speciality Medical Dialogues. She covers several medical specialties including Cardiac Sciences, Dentistry, Diabetes and Endo, Diagnostics, ENT, Gastroenterology, Neurosciences, and Radiology. She has completed her Bachelors in Biomedical Sciences from DU and then pursued Masters in Biotechnology from Amity University. She has a working experience of 5 years in the field of medical research writing, scientific writing, content writing, and content management. She can be contacted at medha@medicaldialogues.in. Contact no. 011-43720751
To know about our editorial team click here
................................ Advertisement ................................