................................ Advertisement ................................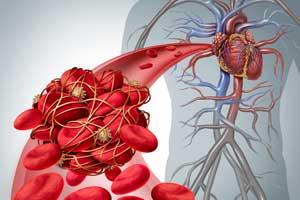 Delhi: Non-vitamin K oral anticoagulants (NOACs) are superior to vitamin K antagonists in benefit-risk profiles for the treatment of patients with early-stage chronic kidney disease (CKD).
In early-stage chronic kidney disease, non-vitamin K oral anticoagulants (NOACs) seem beneficial to prevent stroke or thromboembolism. However for patients with advanced disease, the benefits aren't clear.The study has been published in Annals of Internal Medicine.
"Chronic kidney disease is a prothrombotic state that is associated with substantially increased risks for arterial and venous thromboembolism," write the authors.
................................ Advertisement ................................
The researchers noted that patients with CKD and end-stage chronic kidney disease (ESKD) who have atrial fibrillation are not prescribed oral anticoagulants often as those with normal kidney function due to the uncertainty of benefits in those with CKD, and potentially increased risks for bleeding and other adverse events.
The use of vitamin K antagonists such as warfarin in patients with chronic kidney disease and end-stage kidney disease (ESKD) is associated with increased bleeding risk. It is also associated with an increased risk for valvular calcification and calcific uremic arteriolopathy in these patients. The balance of benefit and harm of warfarin therapy is uncertain in patients with CKD and ESKD.
................................ Advertisement ................................
With emerging evidence of increased efficacy and safety of non–vitamin K oral anticoagulants in the general population, there is a renewed interest in defining the role of anticoagulant therapy to prevent stroke and VTE.
Jeffery T. Ha, MBBS, of the George Institute for Global Health at University of New South Wales Medicine and St. George Hospital, Sydney, and colleagues conducted the study to evaluate the benefits and harms of vitamin K antagonists (VKAs) and non–vitamin K oral anticoagulants in adults with CKD stages 3 to 5, including those with dialysis-dependent end-stage kidney disease.
For the purpose, the researchers conducted a systematic review and meta-analysis of studies identified through online databases. The study included randomized control trials that evaluated non–vitamin K oral anticoagulants (NOACs) or vitamin K antagonists (VKAs), included adults with CKD and reported efficacy and/or bleeding outcomes.
After screening, 45 trials with 34,082 participants that evaluated VKAs or NOACs were included in the study. In the trials, anticoagulant use was evaluated in those with atrial fibrillation (11 trials), venous thromboembolism (11 trials), thromboprophylaxis (6 trials), for prevention of dialysis access thrombosis (8 trials) and CVD other than atrial fibrillation (9 trials).
Also Read: Chronic kidney disease negatively impacts coronary revascularization outcomes: JACC Study
Key findings of the study include:
Among those with atrial fibrillation and early-stage CKD, NOACs reduced risks for stroke or systemic embolism and hemorrhagic stroke compared with VKAs.
Compared with VKAs, the effects of NOACs on recurrent venous thromboembolism or venous thromboembolism related death were uncertain.
NOACs seemed to reduce the risk of major bleeding compared with VKAs.
Also Read: "Obesity Paradox": Obesity may increase survival in advanced chronic kidney disease
"In early-stage CKD, NOACs had a benefit-risk profile superior to that of VKAs. For advanced CKD or ESKD, there was insufficient evidence to establish benefits or harms of VKAs or NOACs," concluded the authors.
To read the complete study log on to DOI: 10.7326/M19-0087
Medha Baranwal joined Medical Dialogues as an Editor in 2018 for Speciality Medical Dialogues. She covers several medical specialties including Cardiac Sciences, Dentistry, Diabetes and Endo, Diagnostics, ENT, Gastroenterology, Neurosciences, and Radiology. She has completed her Bachelors in Biomedical Sciences from DU and then pursued Masters in Biotechnology from Amity University. She has a working experience of 5 years in the field of medical research writing, scientific writing, content writing, and content management. She can be contacted at medha@medicaldialogues.in. Contact no. 011-43720751
To know about our editorial team click here
................................ Advertisement ................................