NOACs now a preferred alternative to warfarin: Guideline for the Management of Patients With Atrial Fibrillation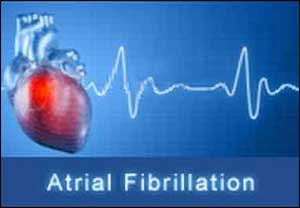 The American Heart Association/American College of Cardiology/Heart Rhythm Society (AHA/ACC/HRS) has released an updated version of its 2014 Guideline for the Management of Patients With Atrial Fibrillation. According to which, a newer type of blood-thinning medications, non-vitamin K oral anticoagulants (NOACs), is now recommended as the preferred alternative to warfarin for reducing the risk of stroke associated with atrial fibrillation (AFib).
The guidelines are published in the journal
Circulation.
AFib is a type of irregular heartbeat in the atria or upper chambers of the heart. Because the heartbeat is irregular, blood can pool and then clot inside the atria, particularly in the left atrial appendage, a pouch that is part of the anatomy of the upper left chamber of the heart. If the clots formed within the left atrium migrate within the blood and reach the brain, a stroke caused by a blocked artery can occur even in people with no obvious symptoms of AFib.
Blood-thinning medications called anticoagulants have long been recommended to reduce the risk of stroke in patients with AFib who have an increased risk of thromboembolism (blockage of a blood vessel by a clot traveling in the bloodstream) and/or stroke caused by narrowed or blocked arteries.
Key Recommendations:


Edoxaban has been added to the list of nonvitamin K oral anticoagulants (NOACs [apixaban, dabigatran, and rivaroxaban]) that can be used for stroke prevention.


NOACs are recommended over warfarin except in patients with moderate to severe mitral stenosis or a prosthetic heart valve.


In patients with cryptogenic stroke in whom external ambulatory monitoring is inconclusive, implantation of a cardiac monitor is reasonable for detection of subclinical AF.


Weight loss combined with risk factor modification is recommended for overweight and obese patients with AF.


In at-risk AF patients who have undergone coronary artery stenting, double therapy with clopidogrel and low-dose rivaroxaban (15 mg daily) or dabigatran (150 twice daily) is reasonable to reduce the risk of bleeding as compared to triple therapy.



AF catheter ablation may be reasonable in symptomatic patients with heart failure and a reduced ejection fraction to reduce mortality and heart failure hospitalizations.



Percutaneous left atrial appendage occlusion may be considered for at-risk AF patients with AF at increased risk of stroke who have contraindications to long-term anticoagulation.


Andexanet alfa (recombinant factor Xa) can be useful for the reversal of rivaroxaban and apixaban in the event of life-threatening bleeding.


Idarucizumab is recommended for the reversal of dabigatran in the event of a life-threatening bleed or urgent procedure.


In AF patients with a CHA2DS2-VASc score ≥2 in men or ≥3 in women and a creatinine clearance <15 ml/min or who are on dialysis, it is reasonable to use warfarin or apixaban for oral anticoagulation.


Renal and hepatic function should be tested before initiation of a NOAC and at least annually thereafter.


The decision to use an anticoagulant should not be influenced by whether the AF is paroxysmal or persistent.


"Patients with AFib are at increased risk of stroke, which can be devastating. A goal of treating AFib patients is to make blood less likely to form clots, which reduces the risk of stroke. New scientific studies show that NOACs may be safer for patients because there is less risk of bleeding, and they may also be more effective at preventing blood clots than warfarin," said Craig T. January, co-chair of the focused update.
For further reference follow the link:
https://doi.org/10.1161/CIR.0000000000000665