No thyroid hormones replacement in subclinical hypothyroidism: Expert Panel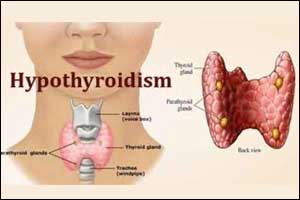 Patients with subclinical hypothyroidism should not be treated with thyroid hormone replacement therapy is the bottom line of recommendations designed by an international panel of experts. The recommendations, published in the journal BMJ, could "substantially alter prescribing trends.
Subclinical hypothyroidism is defined as elevated thyroid stimulating hormone (TSH) levels when free T4 (thyroxine) levels are normal.
The recommendation is based on the data from a 2018 meta-analysis, plus a large 2017 trial of treatment in elders. They included 21 trials consisting of 2192 participants. The panel concluded that there are "no important benefits from treatment," while the possibility of treatment harms — including a potentially higher mortality risk — could not be excluded.
Evidence from the study showed no benefit in improving the quality of life or symptoms, which are minimal in many patients and not present at all in one-third of individuals.
"For adults with subclinical hypothyroidism, thyroid hormones consistently demonstrate no clinically relevant benefits for quality of life or thyroid-related symptoms, including depressive symptoms, fatigue, and body mass index (BMI)," write the authors.
The new advice was published as part of the BMJ's rapid recommendations initiative, developed to provide "rapid and trustworthy guidance based on new evidence to help doctors make better decisions with their patients," according to a BMJ press statement.
In that trial of 737 adults aged 65 years and older (mean age, 74 years) with a wide variety of comorbidities, therapy with levothyroxine (LT4) showed "no apparent benefits in older persons with subclinical hypothyroidism."
The panel says the TRUST trial offers highly convincing evidence.
"There was high certainty that there is little to no difference in general quality of life, thyroid-related symptoms, depressive symptoms, fatigue, cognitive function, mus­cle strength, and BMI," the panel writes.
"The results are consistent across these outcomes, which strengthens our confidence that there really is a lack of benefit."
They note also, however, that the evidence against treating subclinical hypothyroidism extends beyond older patients, applying to a broad range of adults with the condition.
Under current guidelines, thyroid hormones are recommended when TSH levels are above 10 mlU/L, and for patients with lower TSH values who are symptomatic, young, or have other indications for treatment.
For full guidelines follow the link:
https://doi.org/10.1136/bmj.l2006
Source : With inputs from BMJ