No Surgery: Bangalore scientist launches a Novel device to cure pile at home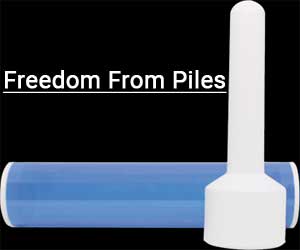 The device aims to offer Freedom from Piles
N
ew Delhi: Coming up with an indigenous and direct-to-use solution for piles, Dr Rajah Vijay Kumar, a Bangalore based scientist recently launched his innovation-a point of care device called C
ryocure
which cures anal
edema
without surgical treatment. The device was launched in the presence of Dr T S Prabhakar, Director of Health and Family Welfare Services, on Tuesday.
The device is said to have made of unbreakable plastic having a simple tube-like structure filled with a special cryogenic memory agent. It can cure piles without any surgical procedure or side effects. The device's simple applicability and most importantly its mass accessibility and affordability make it user-friendly.
The treatment can be done in two easy steps; the device must be frozen for two hours before use. Once removed, the cold cryocure should be dipped in coconut oil or vaseline for lubrication before inserting into the anus at a temperature of -18 degrees Celsius,which is a normal freezer temperature. Cryocure constricts the blood vessels of the haemorrhoids, hence making them shrink. Regular use of Cryocure is effective n irradicating pain, itching, burning, and blood loss.
Haemorrhoids, also known as piles, are swellings containing enlarged blood vessels found inside or around the bottom (the rectum and anus). Symptoms of the disease include bleeding after passing a stool – the blood is usually bright red, itchy bottom, a lump hanging down outside of the anus, which may need to be pushed back in after passing a stool,a mucus discharge after passing a stool, soreness, redness and swelling around your anus
The common reason for piles has been identified as prolonged constipation and with the current predominant lifestyle of the Indian population dominated by lack of fibre in diet as well as sedentary nature of work, the disease is fast growing in the country. Moreover, with the nature of the disease people do not come forward to disclose their problems, not even to their immediate families leading to delayed treatment and a huge lack of awareness
"Hemorrhoids is the most misused disease across the world. In India, mostly quacks are treating Piles and Fistula. Many lives have been lost and deaths caused due to the unqualified treatment of hemorrhoids. With Cryocure, we have a cost-effective cure at home", said Dr. Prabhakar.
The device is priced at Rs 6900 and the company is currently working on to expand its availability