No Resistance to anti leprosy drugs in Multidrug therapy : Study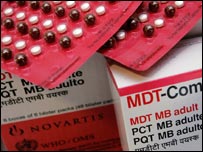 Antileprotic drugs present in MDT are still effective against leprosy, suggests study.WHO MDT is the main drug regimen for treating leprosy and has been used for more than three decades.The drugs used in WHO-MDT are a combination of rifampicin, clofazimine, and dapsone for MB leprosy patients and rifampicin and dapsone for PB leprosy patients.
Satyendra Kumar Singh and associates of Banaras Hindu University, U.P, India, conducted a study to find whether there is resistance with the antileprotic drugs by detecting the mutations in drug resistance-determining region of the rpoB, folP1 and gyrA genes of Mycobacterium leprae.
A cross-sectional observational study was conducted during October 2013 to May 2015 over 78 patients which belonged to the Gangetic belt of the eastern part of north India.
Patients suffering from leprosy, with bacteriological index (BI) ≥2 were included in the study. The samples (slit-skin smears) were obtained from patients before starting MDT, patients on MDT, defaulters of MDT , and patients who had relapse (defined as patients who developed new skin lesions after completion of MDT).The slides were further processed to extract genomic DNA, and polymerase chain reactions were performed to amplify the drug resistance determining region (DRDR) of rpoB, folP1 and gyrA genes. The samples in which genes could be amplified were subjected to DNA sequencing to detect mutations.
The study showed that out of 78 samples rpoB gene was amplified in 39 (50%), folP1 in 32 (41%) and gyrA in 45 (57.7%). In 20 (25.6%) samples no gene was amplified. Only 32 samples of rpoB, 25 samples of folP1 and 38 samples of gyrA gene were included in the study, rest were excluded due to sequencing error. No mutation was seen in rpoB gene and in folP1 gene. In gyrA gene samples mutations were seen in 8 (21%) samples, and were present at codon 91 GCA → GTA (Alanine → Valine).
The research concluded that resistance is not a problem with conventional drugs in MDT. It is more common with quinolones
Leprosy is a chronic infectious disease which mainly affects skin and peripheral nerves, caused by Mycobacterium leprae(M. leprae). More than 81% of the new cases are reported from three countries – India, Brazil, and Indonesia. Although the prevalence of leprosy in India is less than 1/10,000 since 2005, it still accounts for 62% of the total new cases reported worldwide.Since 1995, WHO has supplied MDT free of cost to leprosy patients in all endemic countries.
The study was published in Indian Journal of Dermatology, Venereology, and Leprology.
For more reference log on to:http://10.4103/ijdvl.IJDVL_34_16