................................ Advertisement ................................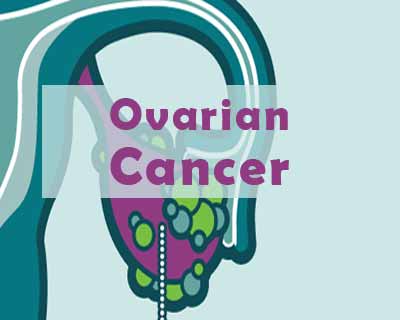 The PARP inhibitor niraparib significantly improves the outcome of platinum-sensitive recurrent ovarian cancer, according to full data from the ENGOT-OV16/NOVA trial presented for the first time at the ESMO 2016 Congress in Copenhagen and published in the New England Journal of Medicine (NEJM). The trial met its primary endpoint, with niraparib considerably prolonging progression-free survival compared to placebo.
"There are limited treatment options in recurrent ovarian cancer," said lead author Dr Mansoor Raza Mirza, chief oncologist, Rigshospitalet, Copenhagen University Hospital, Denmark and medical director of the Nordic Society of Gynaecological Oncology (NSGO). "Cumulative toxicity with platinum-based chemotherapy and lack of additional benefit limits its use. We then pause treatment until the next relapse and start combination chemotherapy."
"The current options for maintenance therapy in the EU are bevacizumab, which can only be given once and improves progression-free survival by just a few months, and the PARP inhibitor olaparib, which is only approved in patients with a germline BRCA mutation (about 10-15% of ovarian cancer patients). No maintenance therapy is approved outside the EU," he continued.
................................ Advertisement ................................
This phase III trial was performed in collaboration with European Network of Gynaecological Oncology Trial groups (ENGOT). The ENGOT-OV16/NOVA trial evaluated the efficacy and safety of the PARP inhibitor niraparib as maintenance therapy in patients with recurrent ovarian cancer who respond to platinum-based chemotherapy. Patients were assigned to cohorts by BRCA mutation status and randomised 2:1 to receive niraparib 300 mg or placebo once daily.
The trial included 553 patients, of whom 203 had the germline BRCA mutation and 350 did not. Niraparib significantly improved the primary endpoint of progression-free survival compared to placebo in both cohorts, as well as in all subgroups.
................................ Advertisement ................................
Median progression-free survival with niraparib compared to placebo was 21.0 vs 5.5 months in the germline BRCA mutation group (hazard ratio [HR] 0.27, 95% confidence interval [CI] 0.173 to 0.410, p<0.0001), 9.3 months vs 3.9 months in the non-germline BRCA mutation group (HR 0.45, 95% CI 0.338 to 0.607, p<0.0001), and 12.9 vs 3.8 months in a subgroup of the non-mutation cohort who had homologous recombination DNA repair deficiencies (HRD) (HR 0.38, 95% CI 0.243 to 0.586, p<0.0001).
More than 10% of patients had grade 3/4 adverse events following treatment with niraparib, of whom 28% had thrombocytopaenia, 25% had anemia, and 11% had neutropaenia. These were resolved with dose adjustments and patients could continue their treatment. Patient-reported outcomes were similar with niraparib and placebo. Patients on niraparib maintained symptom control and had a quality of life comparable to those on placebo.
Significant improvements were also observed in all secondary endpoints. Compared to placebo, niraparib significantly prolonged the second progression-free survival, time to first subsequent treatment, and chemotherapy-free interval in the mutation and mutation-free groups, and in the HRD subgroup.
"This is a breakthrough for patients with ovarian cancer," said Mirza. "We have never seen such large benefits in progression-free survival in recurrent ovarian cancer. Niraparib significantly improved all endpoints across a broad patient population representing 70% of all ovarian cancer patients. These landmark results could change the way we treat this disease."
He concluded: "Once it is approved by the regulatory authorities, I'll consider niraparib for all my patients with recurrent ovarian cancer who respond to platinum regardless of BRCA status."
Commenting on the results, Dr Andrés Poveda, head of the Gynaecological Cancer Clinic, Oncology Foundation Institute Valencia, Spain, said: "This study more than doubles the population of patients who benefit from a PARP inhibitor."
"Personalised medicine has arrived in high grade serous ovarian cancer," he continued. "This was the first trial to use HRD to select patients for treatment and showed that it is a useful strategy. We also know that PARP inhibitors benefit patients with BRCA mutations."
Poveda concluded: "Future studies are needed to unravel which patients with HRD are not responders to PARP inhibitors and why, and which patients are long responders and why. We also need to know if there are other non-HRD factors, such as cyclin E positivity, that predict which patients will respond to treatment.
You can read the full Article by clicking on the following link :
Mansoor R. Mirza, Bradley J. Monk, Jørn Herrstedt, Amit M. Oza, Sven Mahner, Andrés Redondo, Michel Fabbro, Jonathan A. Ledermann, Domenica Lorusso, Ignace Vergote, Noa E. Ben-Baruch, Christian Marth, Radosław Mądry, René D. Christensen, Jonathan S. Berek, Anne Dørum, Anna V. Tinker, Andreas du Bois, Antonio González-Martín, Philippe Follana, Benedict Benigno, Per Rosenberg, Lucy Gilbert, Bobbie J. Rimel, Joseph Buscema, John P. Balser, Shefali Agarwal, Ursula A. Matulonis. Niraparib Maintenance Therapy in Platinum-Sensitive, Recurrent Ovarian Cancer. New England Journal of Medicine, 2016; DOI:10.1056/NEJMoa1611310
Supriya Kashyap Joined Medical Dialogue as Reporter in 2015 . she covers all the medical specialty news in different medical categories. She also covers the Medical guidelines, Medical Journals, rare medical surgeries as well as all the updates in medical filed. She is a graduate from Delhi University. She can be contacted at supriya.kashyap@medicaldialogues.in Contact no. 011-43720751
................................ Advertisement ................................