NIMHANS National Mental Health Survey 2015-2016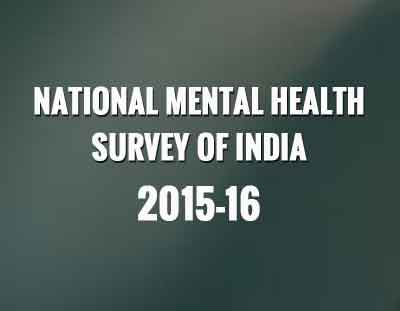 Neurosis and stress related disorders affected women more where in males schizophrenia, alcohol dependency and bipolar disorder were found more.
Bangalore: Shocking revelations regarding mental health deterioration within the country has come out, as National Institute of Mental Health & Neurosciences (NIMHANS) with the support of Health Ministry conducted a national mental health study concluding that 13.7% of the Indian population, consisting nearly 150 million is suffering from depression which requires immediate intervention of mental health experts and government to stop the growing rates.
The study was undertaken in 12 states including Punjab, Uttar Pradesh, Tamil Nadu, Kerala, Jharkhand, West Bengal, Rajasthan, Gujarat, Madhya Pradesh, Chhattisgarh, Assam and Manipur. While, the researchers relied on "multi-stage, stratified, random cluster sampling technique, with random selection based on Probability Proportion to Size at each stage (MSRS-PPS)"
The mental health related disorders like schizophrenia, bipolar disorder, substance use depression and severe depression even progressive to suicidal attempts were the most seen disorders in the survey.
It is also revealed that the health information systems of the country do not prioritize mental health and the mental health activities at the state level and are also not information driven. The mental health programmes conducted have a low priority on the public health agenda, where, paucity of mental health specialists also continues to be worrying.
The survey reads,
"Mental health programmes at the state level are still stand alone programmes; however, an assessment of facilities available, indicates the presence of a wide variety of institutions ranging from speciality hospitals to primary health centres, that can be engaged in the delivery of mental health care, both in the public and private sectors
."
Across the sample states, the presence of health care facilities varied from 14.8 facilities per lakh population in Uttar Pradesh to 31.2 per lakh population in Rajasthan. A large number of private health care institutions and professionals were available in general and specialised care; however, their numbers, quality and activities are unclear and the role they could play is yet to be delineated.
The study revealed the following:


It is estimated that nearly 150 million Indians are suffering from depression the amount which requires immediate intervention of mental health experts and government to stop the growing rates.


Irrespective of the increasing numbers of such cases of mental disorder except of epilepsy other depressive episodes like substance use and others are not even reported for treatment in nearby clinics and mental hospitals. There is a huge treatment gap that exists for all types of mental ranging from 28% to 83% for mental disorders and 86% for alcohol use disorders.


It is suggested that one in twenty suffer from depression and the weighted prevalence of depression for both current and life time was 2.7% and 5.2%, respectively, indicating that nearly 1 in 40 and 1 in 20 suffer from past and current depression, respectively.


Significant gender differentials exist with regard to different mental disorders. The overall prevalence of mental morbidity was higher among males (13.9%) than among females (7.5%). However, specific mental disorders like mood disorders (depression, neurotic disorders, phobic anxiety disorders, agarophobia, generalised anxiety disorders and obsessive compulsive disorders were higher in females. Small number of female alcohol users identified in the present survey were reported to be dependent users


Youngsters are also not out of board as the presence of mental disorders in age group 13-17 years was 7.3% and nearly equal in both genders. Nearly 9.8 million of young Indians aged between 13-17 years are in need of active interventions.


Nearly 1.9% of the population is affected with severe mental disorders in their lifetime and 0.8% were identifed to be currently affected with a severe mental disorder Three out of four persons with a severe mental disorder experience significant disability in work, social and family life.


It has also been found that people in urban areas are more prone to depression when the total percentage reached higher as compared to rural areas. Prevalence of mental disorders was nearly twice (13.5%) as much in urban metros as compared to rural (6.9%) areas.


Neurosis and stress related disorders affected women more where in males schizophrenia, alcohol dependency and bipolar disorder were found more.


Nearly 1% of the population reported high suicidal risk. The prevalence of high suicidal risk was more in the 40-49 age group (1.19%), among females (1.14%) and in those residing in urban metros (1.71%). While half of this group reporting suicidal risk had co-occurring mental illness, the other half did not report any co-morbid mental disorder.


Substance use disorders:


The survey also revealed that 0.6% of the 18+ population were recognized with illicit substance use disorders


Substance use disorders (SUDs), including alcohol use disorder, moderate to severe use of tobacco and use of other drugs (illicit and prescription drugs) was prevalent in 22.4 % of the population above 18 years in all the 12 surveyed states. The MINI diagnostic instrument identifed those with alcohol use disorder (abuse and dependence) to the extent of 4.6% and the number of users may


Prevalence of tobacco use disorder (moderate and high dependence) and alcohol use disorder (dependence and harmful use / alcohol abuse) was 20.9% and 4.6%, respectively. The prevalence of alcohol use disorders in males was 9% as against 0.5% in females.


It is read in the report that excluding tobacco use disorders, mental morbidity of individuals above the age of 18 years currently was 10.6%.


The study has provided many recommendations to tackle the growing issue of Mental Health in the country. You can read the recommendations below