NICE 2018 Guideline for management of exacerbation of COPD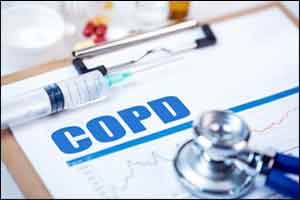 NICE has released its updated 2018 Guideline for the management of exacerbation of Chronic obstructive pulmonary disease, COPD in over 16s.COPD is a common, preventable and treatable disease that is characterized by persistent respiratory symptoms and airflow limitation that is due to airway and/or alveolar abnormalities, usually caused by significant exposure to noxious particles or gases.
An exacerbation is defined as a sustained acute-onset worsening of the person's symptoms from their usual stable state, which goes beyond their normal day-to-day variations. Commonly reported symptoms are worsening breathlessness, cough, increased sputum production and change in sputum colour. The change in these symptoms often necessitates a change in medication.
Major Recommendations-
Factors to consider when deciding where to treat the person with COPD exacerbation
| | | |
| --- | --- | --- |
| Factor | Treat at home | Treat in hospital |
| Able to cope at home | Yes | No |
| Breathlessness | Mild | Severe |
| General condition | Good | Poor/deteriorating |
| Level of activity | Good | Poor/confined to bed |
| Cyanosis | No | Yes |
| Worsening peripheral oedema | No | Yes |
| Level of consciousness | Normal | Impaired |
| Already receiving long-term oxygen therapy | No | Yes |
| Social circumstances | Good | Living alone/not coping |
| | | |
| --- | --- | --- |
| Acute confusion | No | Yes |
| Rapid rate of onset | No | Yes |
| Significant comorbidity (particularly cardiac disease and insulin-dependent diabetes) | No | Yes |
| SaO2 <90% | No | Yes |
| Changes on chest radiograph | No | Present |
| Arterial pH level | ≥7.35 | ≥7.35 |
| Arterial PaO2 | ≥7 kPa | ≥7 kPa |
Investigating an exacerbation
The diagnosis of an exacerbation is made clinically and does not depend on the results of investigations. However, investigations may sometimes be useful in ensuring appropriate treatment is given. Different investigation strategies are needed for people in hospital (who will tend to have more severe exacerbations) and people in the community.


People referred to hospital


1. In all people presenting to hospital with an acute exacerbation:


obtain a chest X‑ray


measure arterial blood gas tensions and record the inspired oxygen concentration


record an ECG (to exclude comorbidities)


perform a full blood count and measure urea and electrolyte concentrations


measure a theophylline level on admission in people who are taking theophylline therapy


send a sputum sample for microscopy and culture if the sputum is purulent


take blood cultures if the person has pyrexia.


Pharmacological management
Increased breathlessness is a common feature of COPD exacerbations. This is usually managed by taking increased doses of short-acting bronchodilators.
Antibiotics
2. For guidance on using antibiotics to treat COPD exacerbations, see the NICE guideline on antimicrobial prescribing for acute exacerbations of COPD.
Respiratory physiotherapy and exacerbations
3. Consider physiotherapy using positive expiratory pressure devices for selected people with exacerbations of COPD, to help with clearing sputum.
Advise people with COPD that the following factors increase their risk of exacerbations:


continued smoking or relapse for ex‑smokers


exposure to passive smoke


viral or bacterial infection


indoor and outdoor air pollution


lack of physical activity


seasonal variation (winter and spring).


Self-management
4. Develop an individualised self-management plan in collaboration with each person with COPD and their family members or carers (as appropriate), and:


include education on all relevant points from recommendation 1.2.117


review the plan at future appointments.


5. Develop an individualised exacerbation action plan in collaboration with each person with COPD who is at risk of exacerbations.
6. Offer people a short course of oral corticosteroids and a short course of oral antibiotics to keep at home as part of their exacerbation action plan if:


they have had an exacerbation within the last year, and remain at risk of exacerbations


they understand and are confident about when and how to take these medicines, and the associated benefits and harms


they know to tell their healthcare professional when they have used the medicines, and to ask for replacements.


7. At all review appointments, discuss corticosteroid and antibiotic use with people who keep these medicines at home, to check that they still understand how to use them. For people who have used 3 or more courses of oral corticosteroids and/or oral antibiotics in the last year, investigate the possible reasons for this.
8. Encourage people with COPD to respond promptly to exacerbation symptoms by following their action plan, which may include:


adjusting their short-acting bronchodilator therapy to treat their symptoms


taking a short course of oral corticosteroids if their increased breathlessness interferes with activities of daily living


adding oral antibiotics if their sputum changes colour and increases in volume or thickness beyond their normal day-to-day variation


telling their healthcare professional.


9. Ask people with COPD if they experience breathlessness they find frightening. If they do, consider including a cognitive behavioural component in their self-management plan to help them manage anxiety and cope with breathlessness.
10. For people at risk of hospitalisation, explain to them and their family members or carers (as appropriate) what to expect if this happens (including non-invasive ventilation and discussions on future treatment preferences, ceilings of care and resuscitation).
Source : With inputs from NICE