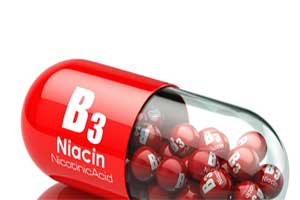 Prescription Niacin often used for Dyslipidemia, does not reduce the occurrence of myocardial infarction MI, stroke, or overall mortality when used for primary or secondary prevention of cardiovascular events, according to a new review study published in the journal American Family Physician. In addition to this, there was an apparent increased risk of developing diabetes mellitus in patients who used niacin
The review was conducted by Joseph R. Yancey, MD, Defense Health Agency, Falls Church, Virginia and Jeanmarie B. Rey,  MD, Fort Belvoir Community Hospital, Fort Belvoir, Virginia, to assess the effectiveness of niacin therapy (monotherapy or in addition to statin therapy) vs. placebo in terms of overall mortality, cardiovascular events, cerebrovascular events, and adverse effects.
Niacin is an effective agent for increasing serum levels of high-density lipoprotein (HDL) cholesterol. Previous research has shown that lower levels of HDL cholesterol are independently linked with an increased risk of cardiovascular disease (CVD), and use of prescription niacin could raise HDL cholesterol levels and may reduce cardiovascular events.
This Cochrane review included 23 randomized controlled trials (published between 1968 and 2015) involving 39,195 participants. The authors looked for studies including patients who were considered at risk of CVD as well as those with known CVD. The primary outcome examined was overall mortality, as discussed in 12 high-quality studies. Niacin did not appear to lower overall mortality. Concurrent statin use, comorbidities, and duration of niacin treatment did not change the impact on the primary outcome. Niacin also had no apparent impact on the secondary outcomes of myocardial infarctions, strokes, or need for revascularization procedures.
Following were the inferences made from the study
Niacin did appear to increase the risk of several adverse effects, including flushing, pruritus, rash and  gastrointestinal symptoms
Its users were at risk of discontinuing the medication because of these adverse effects
There was also an apparent increased risk of developing diabetes mellitus in patients who used it.
Although current guidelines mention that niacin is used to potentially lower the risk of CVD, it is only discussed insofar as to caution physicians regarding the adverse effects associated with its use.
Based on the review, the authors concluded that niacin should not be used for primary or secondary prevention of cardiovascular or cerebrovascular events.
For more information log on to https://www.aafp.org/afp/2018/0401/p436.html