New X-ray imaging system may make frequent X ray exposure safe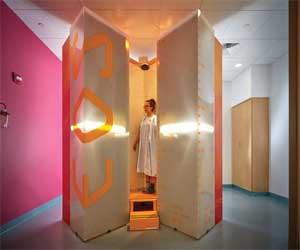 A new X-ray imaging system may make frequent X-ray exposure safe.
New cutting-edge technology has led to the development of EOS X-ray imaging device that may be beneficial for patients requiring regular exposure to X-rays. The EOS X-ray imaging system uses ultra-low radiation doses (up to 50 times lower depending on the scan type) to capture 2-D and 3-D images. The scan, complete in about eight to 15 seconds, obtains an image of the body in an upright, load-bearing position, which is more representative of the body's natural function. this exposes patients to a lower amount of radiation compared with radiologic images taken with traditional X-ray machines that require higher amounts of radiation, often in the supine position.
Less radiation for high-quality scans is appealing to doctors and parents because the cumulative effects of too much radiation can be harmful to a child, increasing the risk of cancer.
Owing to its outer space-like design, the imaging device feels more like a teletransporter. The machine can be a boon for children, adolescents and young adults who have spinal deformities such as scoliosis; kyphosis (curvature of the spine that causes bowing or rounding of the back); limb length inequality; and lower extremity deformities, including hip dysplasia, torsional abnormalities and genu varum (bow-leggedness) and genu valgum (knock-knee).
If a child can't stand unassisted in the EOS machine, a chair specifically designed for the machine allows the child to sit while being scanned.
"With children and adolescents, the goal is always to minimize the radiation dose. This is the ALARA concept: 'as low as reasonably achievable.' The EOS technology allows for substantial reduction in radiation exposure," said Jeff Martus, MD, associate professor of Orthopaedic Surgery and Rehabilitation.
"For scoliosis patients, this may be a reduction of six to nine times compared to standard X-rays. There is also a microdose protocol for follow-up imaging that may reduce exposure by 45 to 50 times. We estimate that approximately 2,000 patients per year will benefit from this technology in our practice," he said.
Pediatric orthopedics is always looking for cutting-edge technology to improve the quality of life for patients and reduce risks.
About four years ago, the team began employing new, advanced technology that uses magnetically controlled growing rods, called MAGEC, to correct scoliosis in young children, reducing the need for frequent surgeries and anesthesia in these patients.
Traditional growing rods have required minor surgery with general anesthesia every six months to lengthen the rods as the child grows. MAGEC (MAGnetic Expansion Control), however, reduces the need for repetitive surgeries and anesthesia. It involves inserting two adjustable magnetic rods into the back during minimally invasive surgery. The rods are lengthened using a machine outside the body that uses a magnetic force.