New treatment for resistant hypothyroidism found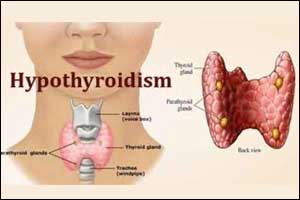 Capsules of poly-zinc-liothyronine (PZL) -- a metal coordinated form of Liothyronine (L-T3) -- could be used to supplement the standard therapy for hypothyroidism, according to a new study published in the journal Thyroid.
Antonio Carlos Bianco, professor of medicine at the University of Chicago, and colleagues have been pursuing an improved treatment for the minority of hypothyroid patients who don't respond well to the standard therapy. Now, their investigations into the way thyroid hormones are given in tablets are absorbed and metabolized by the body suggest that a metal-coordinated molecule could prove to be a more effective therapy for all hypothyroid patients.
Also Read: Routine hormone therapy has no benefit in subclinical Hypothyroidism
"L-T3 has limited short-term clinical applications, all of which aim at suppressing the secretion of thyroid-stimulating hormone (TSH). A more controversial application is chronic administration along with levothyroxine in the treatment of hypothyroidism. Long-term treatment with LT3 is complicated by its unique pharmacokinetics that results in a substantial T3 peak in the blood 3-4 hours after oral dosing. This is a significant problem given that T3 levels in the blood are normally stable, varying by less than 10% throughout the day," write the authors.
Disease, environmental toxins, medical treatments such as radiation, and genetics all can cause hypothyroidism. Symptoms include fatigue, weight gain, lack of energy, depression, cold intolerance, and muscle aches.
The new drug, PZL, worked well in laboratory studies, Bianco said. Safety tests in animals and clinical trials in humans must still be conducted, and funding must be obtained to support that work. If all goes well, though, PZL could be offered to patients in only a few years, according to Bianco.
"We know enough about thyroid physiology in rats and humans that we feel confident that this drug is ready for prime time" in terms of working as well in humans as it has in the lab, he said.
The standard treatment for hypothyroidism is levothyroxine (L-T4), a synthetic version of the thyroid hormone thyroxine (T4), which in a healthy person is secreted by the thyroid gland. However, about 10 to 15 percent of L-T4-treated patients continue to have symptoms of the condition when treated, including weight gain, fatigue, lethargy, mood fluctuations, and problems with memory.
This medical mystery has led physicians to try combination therapy of L-T4, plus liothyronine (L-T3), the synthetic form of the more active thyroid hormone triiodothyronine (T3). However, when L-T3 is given in conventional tablet form, it's absorbed very rapidly, causing spikes in serum blood levels that may result in heart palpitations, tightness in the chest, sweating and anxiety.
In the study, researchers successfully treated laboratory rats that had been made hypothyroid with a capsule containing PZL, a pharmaceutical compound that is made of zinc bound to three L-T3 molecules. This metal-coordinated drug is packaged in a capsule specially coated to allow it to travel intact through the stomach to the duodenum (the first part of the small intestine). There, the zinc facilitates the slow release of L-T3 for sustained absorption into the bloodstream.
In the study, control hypothyroid rats were treated with similar amounts of L-T3. The results were remarkable.
Key Findings:


Whereas control animals exhibited a spike of T3 in the blood about four hours after taking the L-T3 pills, PZL-treated rats displayed a progressive rise in blood T3 levels that peaked about ten hours later at lower blood levels.


When given during eight days, treatment with PZL normalized signs typically observed in hypothyroid rats, such as high blood levels of (the pituitary hormone that is normally used to monitor therapy for hypothyroidism), slow growth rate and higher cholesterol levels.


In rat models, a steady supply of L-T3 is necessary to "normalize" functional thyroid levels in the blood, and in such tissue areas as the brain, muscles, and liver.


"A sustained-release L-T3 has been sort of the Holy Grail" in the field, Bianco said -- specifically, one that would perform well in clinical trials. PZL appears to solve that key problem and could be used in combination therapy. Bianco said. "When you take L-T3 alone, it's immediately absorbed. PZL isn't."
With PZL, T3 levels in the blood are "sustained over time with a delayed, but more desirable biological response," the study reported. As a result, PZL "minimizes post-dose peaks in circulating T3 typically seen with L-T3 administration." In other words, not only is PZL effective, but it also is less of a shock to the body.
For further reference follow the link:
https://doi.org/10.1089/thy.2018.0205
Source : With inputs from Thyroid