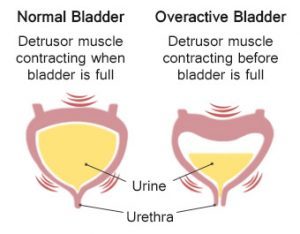 Overactive bladder (OAB) is a highly prevalent syndrome associated with significant bother and impact on quality of life.  The Food and Drug Administration (FDA) has approved Myrbetriq in combination with the muscarinic antagonist solifenacin succinate for the treatment of overactive bladder (OAB).
Overactive bladder is a urine storage problem of urgency, with or without urge urinary incontinence (leakage), often with urinary frequency and nocturia. For people with OAB, inappropriate signals are sent to the muscles in the bladder causing them to contract before the bladder is full. These bladder contractions may cause strong, sudden urges, and a frequent need to go to the bathroom
In clinical trials, the combination of Myrbetriq + solifenacin succinate was associated with greater improvements in the number of incontinence episodes per 24 hours (primary endpoint), the number of micturitions per 24 hours (primary endpoint), and the volume voided per micturition (secondary endpoint) compared to placebo or to individual active components. Long-term data also demonstrated that the effects of combination treatment were maintained throughout a 1-year treatment period.
The possible side effects include:
increased blood pressure
common cold symptoms (nasopharyngitis)
urinary tract infection
constipation
diarrhea
dizziness
headache
Angioedema
Mirabegron is a beta-3 adrenergic receptor agonist for the management of overactive bladder. It is an alternative to antimuscarinic drugs for this indication. It activates the β3 adrenergic receptor in the detrusor muscle in the bladder, which leads to muscle relaxation and an increase in bladder capacity.It is also approved as monotherapy for the treatment of OAB with symptoms of urge urinary incontinence, urgency, and urinary frequency. The extended-release tablets are available in 25mg and 50mg dosage strengths.
Combination therapy of solifenacin and mirabegron has contributed to optimizing efficacy with an acceptable tolerability profile.