New treatment for acute myeloid leukemia patients approved by FDA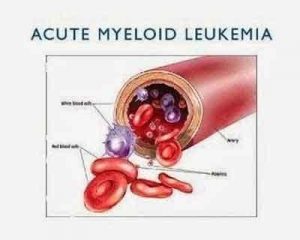 The U.S. Food and Drug Administration has granted approval to Pfizer's Daurismo (glasdegib) for the treatment of newly-diagnosed acute myeloid leukemia (AML) in certain patients.
Glasdegib, a once-daily oral medicine, is to be used in combination with low-dose cytarabine (LDAC), a type of chemotherapy for adults with AML, who are 75 years or older or who have other chronic health conditions or diseases (comorbidities) that may preclude the use of intensive chemotherapy.
"Intensive chemotherapy is usually used to control AML, but many adults with AML are unable to have intensive chemotherapy because of its toxicities. Today's approval gives health care providers another tool to use in the treatment of AML patients with various, unique needs. Clinical trials showed that overall survival was improved using Daurismo in combination with LDAC compared to LDAC alone for patients who would not tolerate intensive chemotherapy," Richard Pazdur, director of the FDA's Oncology Center of Excellence and acting director of the Office of Hematology and Oncology Products in the FDA's Center for Drug Evaluation and Research, said in a press release.
Also Read: Novel drug may triple the survival rate in acute myeloid leukemia
AML is a type of blood cancer that forms in bone marrow resulting in excess immature white blood cells in the bone marrow and bloodstream. In 2018, approximately 19,520 people will be diagnosed with AML that will result in the death of about 10,670 patients. Due to comorbidities and chemotherapy-related toxicities, almost half of the adults diagnosed with AML are not treated with intensive chemotherapy.
The approval of the drug was based on a randomized clinical trial that involved 111 adult patients with newly diagnosed AML. the patients were treated with either Daurismo in combination with LDAC or LDAC alone. The trial measured overall survival (OS) from the date of randomization to death from any cause.
Also Read: Styrene linked to increased risk of acute myeloid leukemia
Key Findings:


In patients treated with Daurismo, the authors observed a significant improvement in OS.


The median OS was 8.3 months for patients treated with Daurismo plus LDAC compared with 4.3 months for patients treated with LDAC only.


Most common side effects reported by patients receiving Daurismo in clinical trials include low red blood cell count (anemia), tiredness (fatigue), bleeding (hemorrhage), fever with low white blood cell count (febrile neutropenia), muscle pain, nausea, swelling of the arms or legs (edema), low platelet counts (thrombocytopenia), shortness of breath (dyspnea), decreased appetite, distorted taste (dysgeusia), pain or sores in the mouth or throat (mucositis), constipation and rash.


The FDA granted this application Priority Review designation. Daurismo also received Orphan Drug designation, which provides incentives to assist and encourage the development of drugs for rare diseases.
Contraindications
The prescribing information for Daurismo includes a Boxed Warning to advise health care professionals and patients about the risk of embryo-fetal death or severe birth defects.
Daurismo should not be used during pregnancy or while breastfeeding. Pregnancy testing should be conducted in females of reproductive age prior to initiation of Daurismo treatment and effective contraception should be used during treatment and for at least 30 days after the last dose. The Boxed Warning also advises male patients of the potential risk of drug exposure through semen and to use condoms with a pregnant partner or a female partner that could become pregnant both during treatment and for at least 30 days after the last dose.
Source : press release