New tool identifies COPD patients at risk of complications, death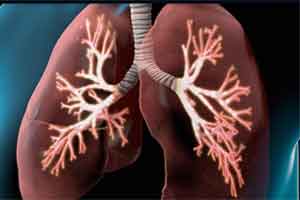 Ottawa, Canada: Ottawa chronic obstructive pulmonary disease (COPD) Risk Scale (OCRS) performs better in identifying COPD patients at higher risk of serious complications including death compared with current practice, finds a validation study of the risk-stratification tool for COPD in the emergency department.
OCRS is a new decision tool, which consists of 10 criteria, was previously derived to identify patients in the emergency department with COPD who were at high risk for short-term serious outcomes. It can be used by respirologists, general internists and family doctors who care for patients with COPD, in addition to emergency physicians.
The study is published in the C
anadian Medical Association Journal (CMAJ).
Ian Stiell, distinguished professor of emergency medicine at the University of Ottawa, and colleagues conducted this study to validate, prospectively and explicitly, the OCRS when applied by physicians in the emergency department.
"Before this tool, there was no way to know if a patient who came to the emergency department with a COPD flare-up was going to have dangerous complications. This new information can help doctors decide whether to admit a patient or send them home, says Dr. Stiell.
Chronic obstructive pulmonary disease is a common condition caused by smoking that affects breathing and gets worse over time.
The study involved 1415 patients aged 50 years and older at six hospitals in Ontario and Alberta, who presented at an emergency department with COPD flare-ups. Using the 10-point OCRS, researchers tested whether they could accurately predict short-term serious complications in these patients.
Key Findings:


9.5% of the 1415 participants with COPD had short-term serious outcomes, with a concerning proportion occurring in those discharged home from the emergency department.


Compared with current practice, an OCRS score threshold of 1 or more would increase sensitivity by 50% but would require 25% more admissions.


Alternately, a threshold of 2 or more would improve sensitivity by 38% while leading to only a slight increase in admissions.


There was an excellent spread of the incidence of a short-term serious outcome by score in a very similar pattern to the derivation study.


Physicians displayed reasonable accuracy in interpretation, as well as good acceptance of OCRS.


"As this risk scale has been clinically validated, it can now be used to estimate medical risk and help with decisions about patient discharge or admission," says Dr. Stiell. "This should help decrease unnecessary admissions as well as unsafe discharges of patients with COPD who should be admitted."
"This risk scale can now be used to help emergency department disposition decisions for patients with COPD, which should lead to a decrease in unnecessary admissions and in unsafe discharges," concluded the authors.
For further reference follow the link:
https://doi.org/10.1503/cmaj.180232
Source : With inputs from Canadian Medical Association Journal